Well, I've done it.  These Midnight Brownies are the darkest (and most delicious) brownies I've ever had, and now I'm fairly sure I'm ruined for all others. (Jump to Recipe)
Just kidding.  I love brownies and realistically, won't turn any down.  What I will say is that these are the most intensely, deeply chocolate brownies I've ever had, and they happened entirely by accident (as most genius things do).
The story begins last weekend, when I made my favorite brownie recipe for a party celebrating the weekend appearance of a friend who lives in LA.  Brownies are my go-to party food since they take almost no time to make, require no separating and rolling like their high-maintenance cookie cousins, and cause people to go bananas at the mere sight of them.  So I made them, brought them, had some wine, and watched other people enjoy them — but they were gone before I was able to snag one myself.
I wasn't going to be greedy and take one before everyone else, but the truth is that brownies, especially brownies warmed and covered in vanilla ice cream, are one of my guilty pleasures.  So I was fairly disappointed that I'd missed out.  By Tuesday of this week I couldn't stand it any longer and decided, upcoming beach vacation be damned, I was going to make a whole batch of brownies just for the two of us.  YOLO.
So I rummaged through my cabinets, grabbed the cocoa powder, opened and…you can guess what the problem was.  Some very rude person (hi, it was me) used all but like, two tablespoons of the cocoa powder, and put it back in the cabinet without buying another one.  Amateur hour over here.
Frustrated, inner chocolate monster in full force, I kept rummaging until I reached the very back of the cabinet where a half-used container of that Hershey's special dark cocoa and some espresso powder were hiding out.  Desperate times, desperate measures.  So I mixed them all together with the scant amount of normal cocoa I had.  What could go wrong, I thought, cursing myself the whole time for being too lazy to go to the grocery store.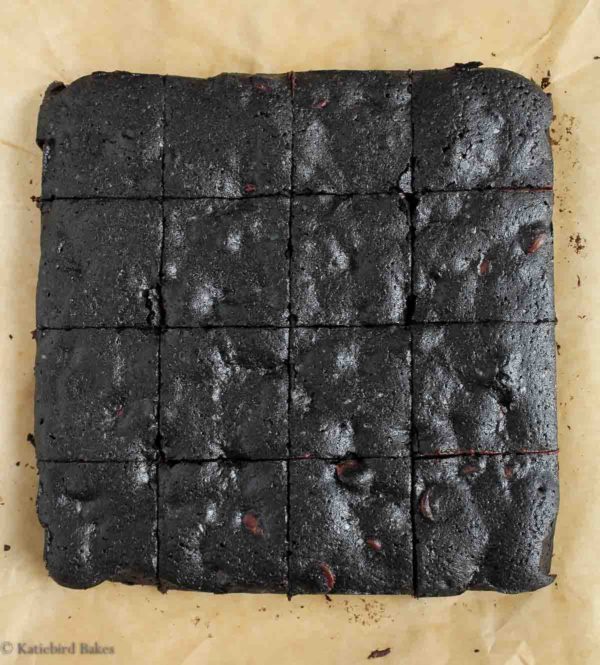 Nothing went wrong.  In fact, it went VERY right.
The mix of powders and the hint of espresso combined to make the most deeply chocolate-flavored brownies I've ever had.  You know I'm a huge fan of dark chocolate (if not, these molten chocolate cakes should have been a clue) and these are the epitome of that.  They don't taste like coffee; the espresso powder just enhances the absurdly intense chocolate flavor.  Of course I added coarse sea salt on top, and I wouldn't skip that either if I were you.
It bears mentioning that you can TOTALLY use normal cocoa powder in this recipe, and as you read above, I usually do.  So don't worry about going out and buying dark cocoa powder if you don't have it.  But if you do…try it.  The important thing, no matter which cocoa powder you're using, is to "bloom" the cocoa powder by whisking it into hot melted butter before combining it with any of the other ingredients, then letting it sit for a couple minutes.  This brings out the chocolate flavor like you wouldn't believe (the smell alone is unbelievable).  If you're a super nerd like me and interested in the science of blooming, I found this article by the Kitchn quite helpful.
After that, it's just a matter of simple whisking.  Not too much flour.  One bowl, magical results.
I'm not sure whether I called these Midnight Brownies because of: 1. their color; 2. the fact that you could make them at midnight, when the brownie cravings usually hit, pretty easily; or 3. I was wearing some super dark nail polish when I made them.  Regardless, you get to enjoy the result.  Please bring them over if you do, because we ate the whole pan already.
Print Recipe
Midnight Brownies
The darkest, most intensely chocolatey brownies ever! Made in one bowl with dark cocoa powder, they'll satisfy all your late night chocolate cravings.
Ingredients
1/2

cup (1 stick; 8 tablespoons)

unsalted butter

1/2

cup

unsweetened dark cocoa powder* (I used Hershey's Special Dark), or normal cocoa powder, or a mix of both

1/2

teaspoon

espresso powder (or 1 teaspoon instant coffee)

2

large

eggs (ideally at room temperature)

2/3

cup

granulated sugar

1/4

teaspoon

salt

1

teaspoon

vanilla extract

1/4

cup

all-purpose flour

1/2

cup

chocolate chips

Coarse sea salt, for sprinkling on top
Instructions
Preheat oven to 325 degrees F. Grease an 8x8 inch baking pan (or line with parchment for easier removal) and set aside.

In a large bowl, melt the butter in the microwave (or in a saucepan on the stove, if you prefer). Whisk the cocoa powder and espresso powder into the melted butter until smooth and glossy, and let sit for about 2 minutes. It should smell intensely chocolatey.

When the mixture is slightly cooled, whisk the eggs in one at a time. Stir in the sugar, salt, and vanilla extract until fully blended, but don't whisk too vigorously or you'll add a lot of air to the batter and the brownies won't be as fudgy.

Stir in the flour until just combined, then fold in the chocolate chips. Scrape the batter into the prepared pan, and sprinkle coarse sea salt over top if desired.

Bake for 30 minutes. The brownies should have a dry, shiny crust. Let them cool in the pan for at least 30 minutes (they will continue to cook and firm up a bit in the pan). Cut into 16 brownies and enjoy!
Notes
Recipe somewhat liberally adapted from Dorie Greenspan's Tribute-to-Katharine-Hepburn Brownies in Baking: From My Home to Yours.
*Please note, the dark cocoa powder I used was Hershey's Special Dark, which is a mixture of natural and alkalized or "Dutch process" cocoa.  I don't recommend substituting a Dutch process cocoa alone here (if you don't know what I'm talking about, don't worry - normal American cocoa powder is the so-called "natural" variety and works perfectly in this recipe).
Excuse me, I have to go make them.  Again.