Salted brownie cookies: deeply chocolatey, fudgy cookies with crisp edges and a sprinkle of flaky salt on top. Also known as the best thing my kitchen has produced in a very long time.
I love it when a random baking idea hits me and the resulting recipe just WORKS.
Let me be clear: it doesn't happen often. Usually it's fail after fail after mediocre fail, followed by me giving up for a while, followed by trying again a week or a month or a year later, again and again until finally I am pleased with the result.
Not with these.
These little bites of heaven came into the world already knowing exactly what they wanted to be, and they delivered. I woke up one morning last week obsessed with the idea of the intense, fudgy chocolate of a brownie, but the crisp, shattering edges of a cookie (wait, is this not normal? you don't wake up dreaming of these things?).
I knew there would have to be salt on top, as all good chocolatey things need salt to balance them. But would it be a cookie dough masquerading as a brownie, or would it be actual brownie batter that I'd somehow firm up enough to keep its shape as cookies?
So as soon as I could, I did some research and discovered that a few other people had shared my brain wave. Namely, Food & Wine had a lovely-looking recipe that I knew I could tweak to my own preferences (removing some steps, no mixer, different proportions, etc). It was a brownie batter chilled until scoopable, which is genius and which I thought I could work with. So tweak I did.
I baked it once; I baked it twice; I fed it to family at a dinner, and friends by the pool. And the results are in: salted brownie cookies are the best things that have come out of my kitchen in quite a while. Brian's family wouldn't let us take any back home with us, and I watched with delight as one of my friends went through four in a row while sitting by the pool (don't let her know I told you that).
And they're actually really easy to make! Like, dangerously easy. Let's talk about this.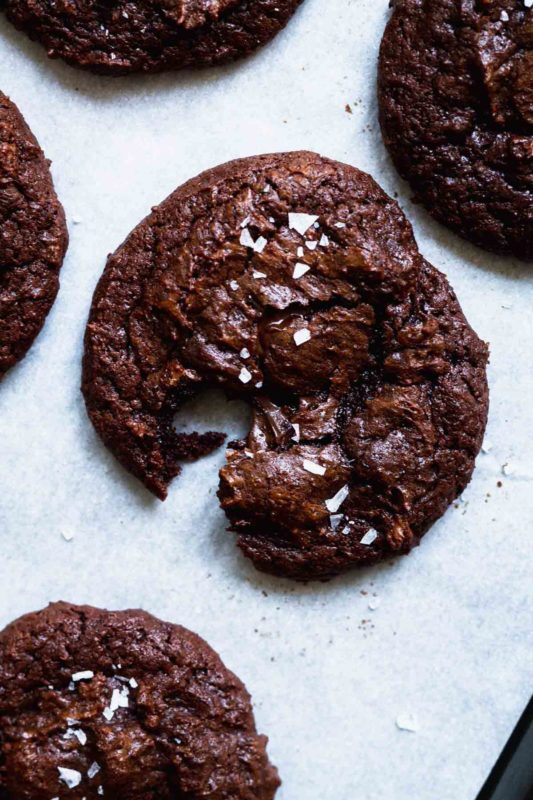 Steps and tips for success:
Use good chocolate – I used Trader Joe's Pound Plus Dark Chocolate, the 54% cocoa solid version (not the 72%, but you could certainly try that one). Chocolate is the main flavor here, so you don't want to use cheap stuff.
Melt gently – When melting the chocolate, make sure to do so gently so you don't scorch it. I did this in small bursts in the microwave, stirring in between, but you could also do it in a double boiler if you, unlike me, are patient.
CHILL THE BATTER. I cannot stress this one enough – it's an absolute must to chill this batter before baking for at least half an hour. It's a brownie batter, not a dough, so it's much wetter than cookie dough is. If you tried to scoop it just after mixing, you'd have a puddled mess. Chilling it allows the chocolate to become semi-solid again, and makes it scoopable. I recommend 30 minutes to an hour for chilling, though I also had success chilling the scooped dough on the cookie sheet overnight (because I ran out of time) and putting it straight in the oven from there. I just wouldn't recommend chilling the batter in the bowl overnight because it would become pretty solid and hard to scoop.
Use a cookie scoop. It'll be much less messy that way. I use a tablespoon cookie scoop (which actually gives you slightly more than a tablespoon) and highly recommend it.
Use good salt on top. I used a flaky sea salt and it makes all the difference in terms of flavor. Just a tiny sprinkle is all you need – don't go overboard.
You need to make these, ASAP.  Honestly, I have nothing else to say.
Salted Brownie Cookies
Salted brownie cookies: deeply chocolatey, fudgy cookies with crisp edges and a sprinkle of flaky salt on top. Also known as the best thing my kitchen has produced in a very long time.

Ingredients
8

ounces

dark chocolate, chopped

(227g; see note)

2

Tablespoons

unsalted butter

(28g)

3/4

cup

granulated sugar

(150g)

1

teaspoon

vanilla extract

1/4

teaspoon

fine salt

2

large

eggs

1/4

cup

all-purpose flour

(33g)

1/2

teaspoon

baking powder

1/2

cup

chocolate chips

(85g)

Flaky sea salt, to sprinkle on top
Instructions
Preheat your oven to 350 degrees F. In a large microwave-safe bowl, combine the chopped chocolate and butter. Heat in 30 second increments, stirring in between, until chocolate is just melted. Don't let it go too long to avoid scorching the chocolate. Stir until the mixture is completely smooth and glossy.

Whisk in the granulated sugar, vanilla, and salt until thoroughly combined. Whisk in the eggs, one at a time, until thoroughly combined. Stir in the flour and baking powder until incorporated, then fold in the chocolate chips. You'll have a brownie batter consistency, and this is correct.

Place the bowl in the fridge for at least 30 minutes, but preferably under an hour. This allows the batter to firm up so you can scoop it. If you leave it in longer than an hour, you may have to let it sit on the counter to soften a little before scooping.

Line a cookie sheet with parchment paper.  Scoop the batter by rounded tablespoons (I use this #40 tablespoon cookie scoop and highly recommend) onto the cookie sheet, leaving at least 2 inches in between to allow for spreading. For perfectly round cookies, roll the dough balls between your palms until smooth and even, then flatten slightly on the cookie sheet with your hand.

Bake for 10-12 minutes, until edges are crackly and cookies are a bit puffed (they will deflate after they come out).

Sprinkle each cookie with a small amount of flaky sea salt while warm from the oven. Serve!
Notes
For the chocolate, use a dark chocolate BAR with at least 50% or more cocoa solids, up to 70%.  I used Trader Joe's Pound Plus Dark Chocolate, which has 54% cocoa solids, but I think a darker chocolate would produce an even more intense flavor.  I do not recommend using chocolate chips here as they have a wax coating on them that prevents them from melting well.
Cookies will keep for up to 5 days covered tightly at room temperature, though I seriously doubt they will last that long.
Recipe adapted from Food & Wine.
Like this recipe? Please rate it and leave a comment or tag me on Instagram @katiebirdbakes, and sign up for my email list to receive my recipes straight to your inbox every time I post!