These easy small batch one banana muffins will use up that one lonely ripe banana sitting on your counter. Just 1 brown banana yields 6 tall bakery-style banana muffins in this simple recipe. Add chocolate chips if you want to take them over the top!
A recipe using just one banana!
Ask me what my most-baked recipe is and honestly, out of all of them, it's my easiest banana bread every. single. time. I realize that may not be a particularly exciting answer but it's the truth – banana bread is easy, comforting, and endlessly customizable (looking at you, double chocolate banana bread).
Sometimes, however, I don't have time to make a full loaf OR I only have one sad, spotty brown banana sitting all by itself. Enter: these small batch banana muffins! We're getting 6 delicious muffins using 1 banana and I have to say, it's pretty satisfying.
These muffins bake up tall with a plush texture and subtly sweet, cozy banana flavor. I love to add a sprinkle of turbinado sugar on top before baking for that crunchy bakery-style muffin top. Adding chocolate chips never hurt anyone either! I'm showing the recipe with and without chocolate chips in the photos; you will get 6 muffins either way.
More recipes using one banana: my baked banana donuts ALSO use just one brown banana, in case you're so inclined. You'll get 8 donuts from that recipe!
Ingredients
One of the ingredients is likely quite obvious, but here are the ingredients needed for this small batch banana muffin recipe. I like recipes that are adaptable depending on what you have, so I give substitute options where appropriate.
One spotty or completely brown banana. The more overripe and gross-looking, the better flavor. This should equal about 1/2 cup mashed banana.
Unsalted butter, melted (can substitute a neutral oil if you prefer)
Brown sugar (just 1/3 cup; no sickly sweet muffins here – can sub granulated or coconut sugar)
1 Whole Egg (this is not one of those persnickety small batch recipes that will require just an egg white or egg yolk, hooray!)
Vanilla extract
All-purpose flour (you can sub an equal amount of all-purpose gluten-free flour like Bob's Red Mill 1:1 – I tried this and found no discernible difference in the final product)
Baking powder and baking soda for lift
Cinnamon
Salt
Dark or semisweet chocolate chips (optional; could also use chopped nuts or blueberries!)
Turbinado or granulated sugar, for bakery-style crunch on your muffin tops
Equipment Needed
I love when these lists are short.
Glass mixing bowl(s) – note I give instructions below on how to make this a one bowl recipe!
Whisk (or fork) and rubber spatula
Kitchen scale – I highly recommend weighing your ingredients for most accurate results, especially the flour! This is the primary way I bake these days, rather than using measuring cups.
12-cup muffin pan
Optional: muffin liners
Optional but highly effective: muffin/ice cream scoop
How to make 6 muffins from 1 banana
Mash your banana in a large bowl until relatively smooth. Whisk in the other wet ingredients (melted butter, brown sugar, egg, vanilla).
Whisk dry ingredients together in a medium bowl (note, you can skip this if you only want to dirty one bowl. Instead, add the baking powder, baking soda, cinnamon, and salt to the wet ingredients and whisk thoroughly before adding the flour and proceeding with step 3).
Dump the dry ingredients into the wet and stir with a spatula or fork until a batter is formed, but don't keep stirring indefinitely. Just until it comes together – this prevents gummy muffins. Fold in the chocolate chips or nuts, if using.
Spoon batter into a paper-lined or greased muffin pan and top each with a sprinkle of turbinado or granulated sugar, and more chocolate chips if desired. The recipe makes 6 muffins – see tips below on how to get the tallest muffin tops!
Bake and enjoy!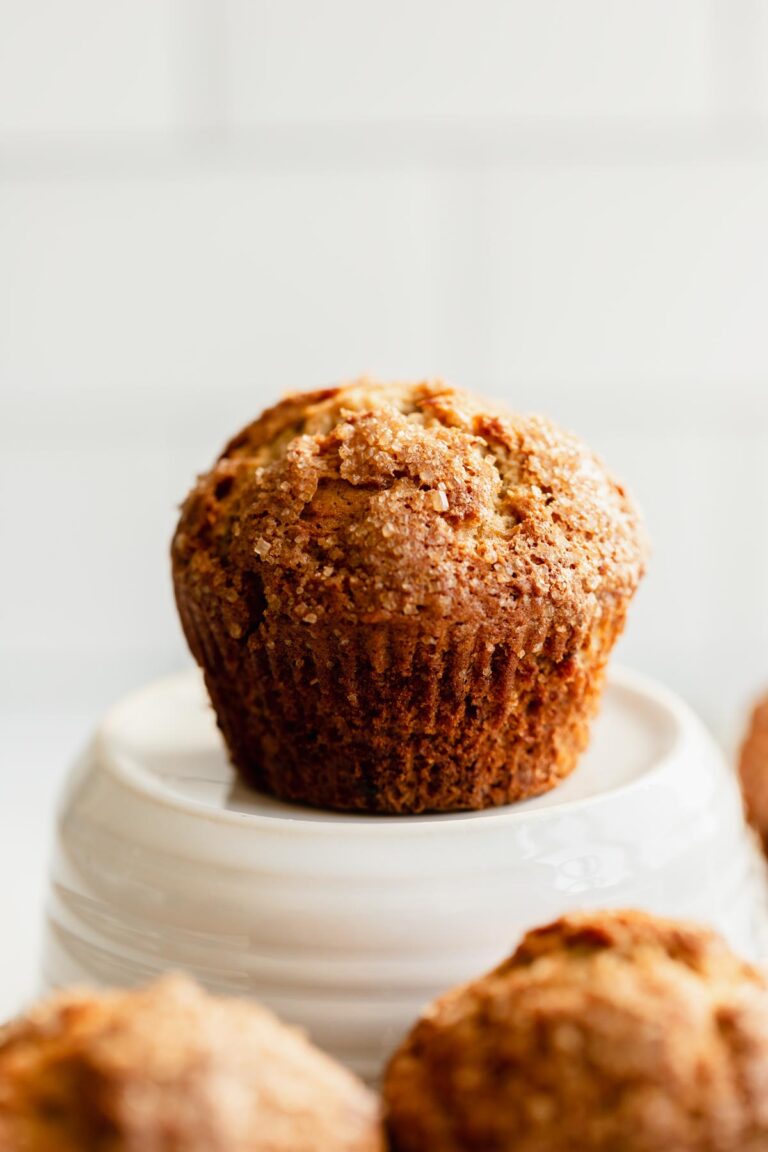 Tips for baking tall muffins
If you're like me, you've been disappointed by muffins that puff up super tall in the oven and then deflate the second you take them out. It's the worst, right? This is usually caused by the shock of taking the muffins out of the hot oven and into the cooler air outside of it before their structure has set.
I've done a lot of experimenting and research to figure out how to bake tall muffins that hold their shape and don't sink, and here are my best tips:
Let the batter rest for 15-20 minutes at room temperature before scooping and baking. This thickens the batter and allows the baking powder to activate. (I've even left batter for up to an hour before baking with no discernible difference in the end product!)
Only use every other muffin cup (see photo below) – meaning for 6 muffins, you'd use a 12-cup muffin pan. This allows for better air flow around the muffins and lets them rise higher.
Bake at 425 degrees F for 5 minutes, then reduce oven temperature to 350 degrees F WITHOUT opening the door and bake for another 12-15 minutes. The initial blast of high heat activates the chemical leavening reaction in the muffins and allows them to rise super tall, and the subsequent gradual reduction in heat allows their structure to set before they are removed from the oven.
You can use these tips in any muffin recipe and I promise it will work. I've tried these methods with all sorts of different recipes (even gluten-free ones) and have had great success. Just make sure to keep that oven door shut until they are set or else they'll deflate on you!
Storage
Small batch banana muffins can be stored as follows…
Room temperature: 1-2 days in a tall tupperware that doesn't touch the sugared tops, or individually wrap them in plastic wrap to take on the go
Fridge: up to a week in a tall tupperware; microwave for 15-20 seconds to reheat
Freezer: up to 3 months, well-wrapped individually in plastic and stored in a freezer bag. Microwave for 30 seconds to reheat or allow to come to room temperature for 1-2 hours.
Additions and Substitutions
In place of the all-purpose flour, substitute an equal volume (1 cup) or equal weight (125g) of a gluten-free all-purpose flour mix that contains xanthan gum. I tested and like Bob's Red Mill Gluten Free 1:1 Baking Flour.
Chocolate chips: you can sub in 1/2 cup of nuts, dried fruit, or even fresh blueberries, or skip the add-ins entirely! Recipe works either way.
Double the recipe for 12 muffins instead of 6! If you don't want to bake them in two batches, you can bake them all in a 12-cup muffin pan following the high-to-low-heat trick, which will still produce fairly tall muffins.
Mini muffins: will make 12, bake 5 minutes at 425F and 5 more minutes at 350F (check often for doneness).
More Small Batch Recipes
If you make these small batch, one banana muffins, please leave a star rating and review below. It helps other bakers find and successfully bake the recipe!
Small Batch One Banana Muffins
Ingredients
1

cup (125g)

all-purpose flour

1/2

teaspoon

baking powder

1/2

teaspoon

baking soda

1/2

teaspoon

cinnamon

1/4

teaspoon

salt

1/4

cup (56g)

unsalted butter, melted

(4 Tbsp; can substitute with a neutral oil)

1

overripe

banana

(will equal about 1/2 cup mashed banana)

1/3

cup (66g)

brown sugar, packed

1

large

egg

1/2

teaspoon

vanilla extract

1/2

cup (85g)

dark or semisweet chocolate chips

(optional)

1

Tablespoon (12g)

turbinado or granulated sugar

(optional, for sprinkling on top)
Instructions
Preheat the oven to 425°F (218°C). Line or grease every other cup of a 12-cup muffin tin (recipe makes 6 muffins; using every other cup creates better air flow and taller muffins).

In a medium bowl, whisk together dry ingredients: flour, baking soda, baking powder, cinnamon, and salt. Set aside.

In a large microwave-safe bowl, melt the butter. Add banana and mash thoroughly with a whisk or fork. Whisk in the brown sugar, egg, and vanilla extract until smooth.

Add the dry ingredients to the bowl with the wet and stir together until a batter forms. Stir until just incorporated; do not overmix. Fold in chocolate chips or other add-ins, if using.

Optional: Let batter sit at room temperature for 15-20 minutes before scooping for tallest muffins.

Spoon the batter equally into the 6 muffin cups. Top each with a generous sprinkle of turbinado or granulated sugar, and more chocolate chips if desired.

Bake for 5 minutes at 425°F (218°C), then decrease the oven temperature to 350°F (180°C) WITHOUT opening the oven door, and bake for 12-15 more minutes until domed and set. A toothpick inserted in the center should come out clean or with just a couple crumbs attached.

Let cool for a few minutes and enjoy!
Notes
Storage: baked muffins keep well when covered at room temperature for 1-2 days, or in the refrigerator for up to 1 week. Freezing: baked muffins can be frozen, well-wrapped, for up to 3 months.  Set out on the counter to thaw for an hour or warm for 30 seconds in the microwave. Make gluten-free: sub an equal volume (1 cup) or weight (125 grams) of an all-purpose GF flour mix with xanthan gum. Different add-ins: 1/2 cup of nuts, dried fruit, or blueberries would all work well in place of the chocolate chips.
Like this recipe?  Sign up for my email list to receive my recipes straight to your inbox every time I post!