This easy double chocolate banana bread recipe is made in one bowl with simple ingredients, yet turns out super dark and chocolatey with a plush texture. Add chocolate chips and a sprinkle of sugar on top for a crunchy, caramelized chocolate crust.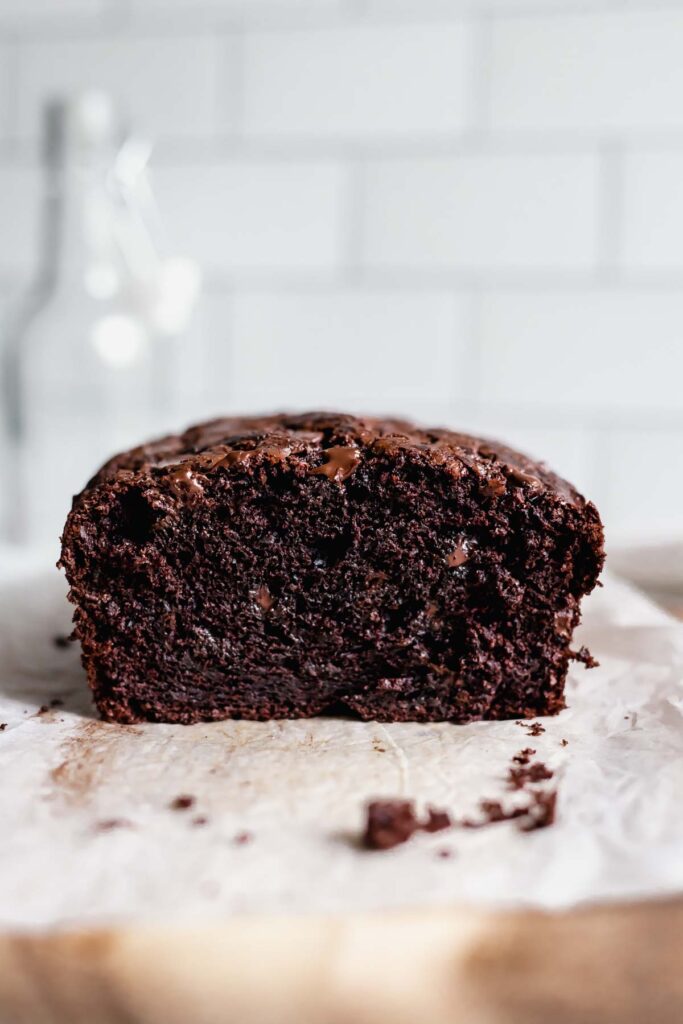 I say this a lot, but this double chocolate banana bread may be one of my most tested recipes ever! I've made it no less than 8 times and I finally think I've achieved the perfect balance of dark chocolate AND banana bread flavor.
So let's chat about it.
You'll love this double chocolate banana bread recipe
It's no secret that I love banana bread. My recipe for the easiest banana bread is not only one of the most popular recipes on this site, but also in my own kitchen. I make it at least once or twice a month, and Brian strategically leaves bananas on the counter to go spotty because he knows I'll make it once they're no longer edible. He's sly that way.
What I love about that recipe, Brian's machinations aside, is that it only requires one bowl and no mixer, and the ingredients are very simple. No one wants a super complicated banana bread recipe – it's supposed to be comforting, nostalgic, and easy.
Well, when the great banana bread baking of 2020 commenced and it seemed like everyone in the world was baking it at once, I knew I needed to work on some variations that were just as easy and satisfying as my go-to. The classic is great, but sometimes we need to change things up.
And what better way than with chocolate?
Is Dark Chocolate Banana Bread Breakfast or Dessert?
Correct answer: BOTH.
It's one thing to just mix chocolate chips into your banana bread. It's something entirely different to make your banana bread WITH cocoa powder in the batter. Suddenly, what was once a breakfast or snack item could be…a decadent dessert. We're talking warm, melty chocolate, ice-cream-on-top, sheer bliss dessert.
Or add a schmear of peanut butter and call it breakfast, or a snack. PB + dark chocolate banana bread = heaven. Trust me on this.
The great thing about this recipe is you can choose your own adventure – make it breakfast, make it a snack, make it dessert, you win in every scenario. And trust me, I've experienced every scenario.
Plus, cocoa powder contains antioxidants and fiber, so you can feel healthy while having your cake and eating it too. Yes. That's how the logic works.
Replacing some of the flour in my original recipe with cocoa powder turned out to be more complicated than I originally thought, but after many (MANY) tests by both myself and my ever-supportive, ever-patient recipe testers (yes, they're my parents) we finally hit the perfect ratio. Read on for the details or scroll right on down to the recipe if you've heard enough!
Recipe Steps
If you've made my easiest banana bread, then you will recognize the steps of this chocolate banana bread recipe:
Melt your butter in a large microwave-safe bowl and mash 3 VERY ripe bananas into the melted butter. I'm talking super brown bananas for smoothest texture and best results. You'll want 1 and 1/2 cups of mashed banana. I don't generally measure it out but you can if you're concerned!
Whisk in just 1/3 cup each of brown and white sugar, followed by 2 eggs, vanilla extract, Greek yogurt, salt, and baking soda. Yes, you mix the baking soda in with the wet ingredients. I do this before adding the dry ingredients because it ensures even distribution (i.e. no gross pockets of baking soda in your final product).
Stir in your cocoa powder and flour. (See below notes about the different results from Dutch process vs. natural cocoa powder – spoiler, you can use either one in this recipe!) Stir until there are no pockets of dry ingredients remaining and everything is fully incorporated, but stop at that point. Don't keep stirring or your chocolate banana bread will develop too much gluten and turn out tough!
Fold in chocolate chips, pour into a greased loaf pan, sprinkle with more chocolate chips and just a tablespoon of sugar for a caramelized, crunchy top, and
Bake!
Common Questions:
Should I use Dutch process cocoa powder or natural cocoa powder in my chocolate banana bread?
It's totally up to you – they will both work in this recipe! Dutch process cocoa powder (which you can reliably buy at Whole Foods) will yield a denser, darker loaf that won't rise quite as much but has a nice smooth and mellow chocolate flavor. Natural cocoa powder (aka Hershey's and most store brands) will result in a higher rise due to its natural acidity reacting with the baking soda. It will have sharper chocolate flavor, but a lighter color. The flavor will settle a bit as the loaf sits on the counter for a day. Both versions are delicious! Here's a photo showing the clear differences between the two – all other parts of the recipe were made with the same ingredients.

How do I make this chocolate banana bread gluten-free?
Simply replace the all-purpose flour in this recipe with an equal amount of gluten-free all-purpose flour blend that contains xanthan gum, such as Bob's Red Mill 1-to-1 (this is what I use) or King Arthur Flour Measure for Measure.
What can I use instead of Greek yogurt?
You can use a Greek-style plant-based yogurt (make sure it's thick, not the runny kind) or sour cream in place of the Greek yogurt.
Can I use oil instead of butter?
Yes, you can use 1/4 cup of any neutral oil you like – such as olive oil, avocado oil, or canola oil. I think you could substitute 1/4 cup of applesauce as well for an oil-free banana bread, but I haven't tried it so sub at your own risk!
I'm fairly certain this has ruined all other banana breads for me. You get the comforting soft and plush texture of banana bread, but the intensely satisfying dark chocolate that makes it feel decadent. A few extra chocolate chips never hurt anyone either.
More Chocolate Recipes
If you make this recipe for dark chocolate banana bread, please leave it a rating and review! Your feedback helps others find and make the recipe, and it means so much to me. Thank you!
Double Chocolate Banana Bread
This easy double chocolate banana bread recipe is made in one bowl with simple ingredients, yet turns out super dark and chocolatey with a plush texture. Add chocolate chips and a sprinkle of sugar on top for a crunchy, caramelized chocolate crust.
Ingredients
1/4

cup (56g)

unsalted butter (4 tbsp or 1/2 a stick)

3

overripe bananas

(mashed should equal 1.5 cups or approx 270g)

1/3

cup (67g)

granulated sugar

1/3

cup (67g)

brown sugar (packed)

2

large eggs

1

teaspoon

vanilla extract

1/4

cup (70g)

plain Greek yogurt

1/2

teaspoon

salt

1

teaspoon

baking soda

3/4

cup (50g)

cocoa powder*

1

cup (125g)

all-purpose flour

1/2

cup (85g)

chocolate chips, plus more for sprinkling on top (optional)

1

tbsp (!2g)

turbinado or granulated sugar, for sprinkling on top (optional)
Instructions
Preheat your oven to 350 degrees F. Generously grease an 8.5 x 4.5″ or 9 x 5″ loaf pan and set aside.

In a large, microwave-safe bowl, melt the butter. Add the bananas to the bowl and mash them very thoroughly into the melted butter until completely smooth, using a fork or potato masher.

Whisk in the granulated sugar and brown sugar until well-combined. Add the eggs, one at a time, and whisk in each until well-combined. Add the yogurt, vanilla, salt, and baking soda to the mixture and stir until thoroughly combined and smooth.

Add the cocoa powder and stir until it is incorporated and smooth. Add flour and stir gently with a fork or a spatula until flour is incorporated and a slightly lumpy batter forms. Do not over-mix! Fold in the chocolate chips gently with a spatula until evenly distributed.

Scrape the batter into the prepared pan and smooth it out. Sprinkle the additional tablespoon of turbinado or granulated sugar evenly over top if desired, then evenly sprinkle a few chocolate chips on top as well. Bake for 45-55 minutes (this will depend greatly on the size of your pan and type of cocoa powder used, further explanation below), until a toothpick inserted in the center of the bread comes out clean or with just a couple crumbs attached.

Cool in the pan for about 10 minutes, then remove to a wire rack to cool completely (if you can stand to wait that long).
Notes
*Cocoa powder: you can use natural cocoa powder like Hershey's and most store brands, or Dutch process cocoa powder which is sold by Whole Foods or other specialty grocers (it will say "processed with alkali" on the back if it is Dutch process). Natural cocoa powder will produce a lighter colored but very flavorful chocolate loaf which becomes more balanced as it sits for a day on the counter, while Dutch process will yield a very rich and dark colored loaf with more of a mellow chocolate flavor. You will likely need to bake a loaf made with Dutch process cocoa powder for longer, particularly if you use a smaller 8.5×4.5 inch pan. It is done when a toothpick inserted in the center comes out clean or with just a couple tiny crumbs attached.
Storage: chocolate banana bread will keep, well-wrapped at room temperature for up to 5 days.  Store in the fridge for up to a week.  Whole baked loaf can be frozen, well-wrapped in plastic and kept in a freezer storage bag, for up to 3 months — or individual slices can be wrapped in plastic and frozen, kept in a plastic storage bag, for up to 3 months as well.  Simply remove from wrapping and microwave for 30 seconds to reheat.
Like this recipe? Please rate it and leave a comment or tag me on Instagram @katiebirdbakes, and sign up for my email list to receive my recipes straight to your inbox every time I post!