Creamy lemon meringue pie with an easy graham cracker crust.  A classic recipe perfect to brighten up colder months! (Jump to Recipe)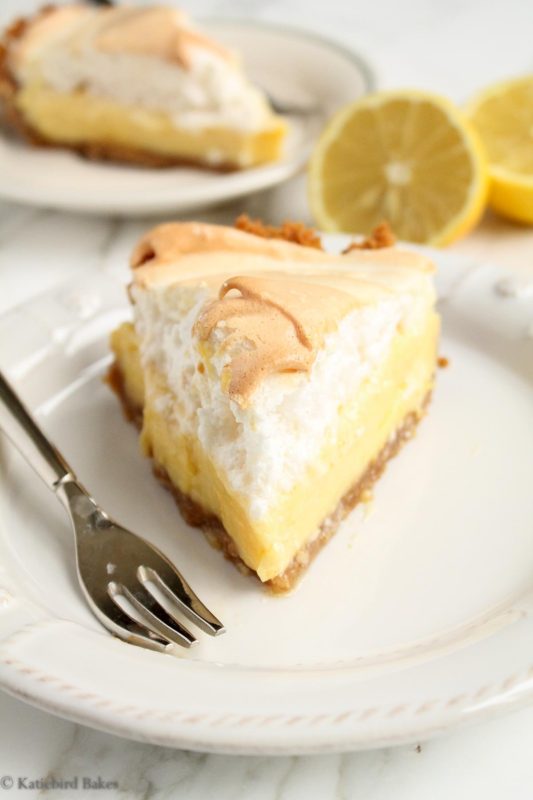 NEW: Sign up for my email list so you never miss any recipes!
Hi there.  Apologies for being away – I went to Hawaii for a week with Brian and my parents to celebrate a big birthday for my mom!  I had intended on posting while I was there, but I realized that sometimes it's better to just step back and take a breath; to reflect and recenter.  
A lot of things have been happening recently both life and career-wise, and I decided to take the opportunity in Hawaii to just take a real break from everything.  I don't think we do that enough anymore.  Whether through email, social media, texting, snapping, blogging, even watching TV or reading the news, it seems we are ALWAYS connected and always juggling a million items on the to-do list.  Personally, I don't think I take enough time to slow down and reflect on things, or to disconnect entirely at any point in the day.  So, while I was in Hawaii, I made a conscious effort to just let go.  I actually read a couple books (ok, it was on my iPad), and even left my phone in the hotel room (it was difficult).  I'm embarrassed to admit how long it had been since I'd read anything that wasn't an online article or email.  It's sad.  But I remembered how much I enjoy reading for pleasure, and how much I miss taking the time to focus on just reading one story for a few hours without being bombarded by notifications and emails.  I decided while I was there to recommit to reading: one book a month is attainable I think, even if I only take a few minutes each day.  Next on my list is Big Little Lies by Liane Moriarty (so I can have more context for the show).  Let me know if you have recommendations!
On a similar note: how is it March already?  I think a side effect of our constant connectivity and "busyness" is that time actually escapes us.  I often start to do one thing, then get an email or alert and go to that thing, then get another alert or text and look at that, and then…before I know it, hours have gone by and I don't know what I accomplished.  It's not a productive way to spend the day, and it adds up over time.  I've always been most productive late at night (it's 12:39am as I'm writing this) and I always thought it was just a personal quirk – but now I think it's because late at night, no one else is awake, I'm not getting a barrage of emails and texts and news alerts, and the world is finally quiet enough that I can focus.  The more I think about it, the more I realize how serious a problem this is.  The more time lost during the day due to overwhelm, the less time I have at night to disconnect from the overwhelm, and then the cycle continues.  Usually resulting in less sleep for me.
I'm thinking about these issues in sharper focus now because I'm actually starting a new full time job next week, as an in-house counsel.  I'm excited, but I also know that I need to become as efficient as possible with my days so that I can spend my nights and weekends on this little blog.  I don't plan on anything changing for you, dear readers, which means I will need to get better about managing my time effectively.  Any tips in that regard will be most welcome.
Ok, enough about my pseudo-ADD.  Let's talk about something far sweeter – this Lemon Meringue Pie.  This is a humble, simple pie that packs a big flavor.  The total amount of ingredients are shown above.  This is a pie I grew up eating because my dad grew up eating it too.  The recipe comes from his mom, my Granga, and it's a winner every time.
My mom tells the story that early on when she and my dad were dating, he mentioned his love for lemon meringue pie.  Being an accomplished baker herself (I come by it honestly), she decided to bake it for him.  She hasn't told me which recipe she used, but I'm guessing it's something like this Betty Crocker classic.  Usually, lemon meringue pie has a rolled shortbread crust and a sweet, almost Jello-like lemon custard filling that you have to cook and temper eggs with and such.  It's time consuming and difficult.  But, you know, she liked him.  So she went to all that effort and then he tasted it and he says, "it's good, but not like my mom's."
Well.  Needless to say, we had Granga's recipe from then on.  It's insanely easy, and the results are delicious every time.  Granga passed away when I was young, but I like to think that she's smiling down on me every time I make this pie (and I think she'll forgive me for tweaking it, just a little).
The big game changer in this pie is using sweetened condensed milk instead of cooking a custard.  Is it going on be on the list of "healthiest superfoods" anytime soon?  Nope.  Is it completely delicious and fine to eat in small quantities once in a while?  I say yes.  The other unusual aspect of this pie is the graham cracker crust.  Granga's recipe called for a store-bought crust (my mom always used those Keebler ones in the baking aisle growing up).  But, you know me well enough by now to know that I'm going to make my own crust.
Graham cracker crusts are a snap to make.  You can crush graham crackers yourself or buy the pre-crushed crumbs (I buy the crumbs), mix with melted butter and a little sugar, and press into the pie pan.  I use the bottom of a measuring cup to compact it.
Then all you need to do is bake it for a few minutes, and while it's baking whip up the filling – egg yolks, the sweetened condensed cream, lemon juice and zest.  Granga's recipe calls for commercial lemon juice, and while it's fine in a pinch, I prefer to use real lemons.  Adding their zest takes the lemon flavor up a notch!  I use a microplane zester, which is one of the best tools you can have in the kitchen.  It gets the zest off without the bitter pith underneath.
Next we whip up our meringue.  Meringue seems scary to a lot of people, but it's really a matter of patience.  I use a hand mixer and a glass bowl.  Just make sure your bowl and beaters are VERY clean for the easiest whip.  You want to whip until the egg whites have reached "stiff peak" form.  All this means is that when you stop your mixer and pull the beaters out of the bowl, the impressions they make will remain very defined.  Here are the three stages of egg whites:
Spread that gorgeous meringue on top of the custard, bake it (watch carefully to make sure it doesn't burn), chill for a couple hours in the fridge, and voila!  A super impressive pie.
I love the browned color the meringue gets.  It's so pretty!  I think this is a great dessert to make if you're having people over.  You can make it ahead (I'd recommend no earlier than 12 hours) and it looks so impressive.  All your friends will think you're a kitchen genius, and no one has to know just how easy it really is.  All part of the plan.
Lemon Meringue Pie with Graham Cracker Crust
A sweet, creamy lemon meringue pie made with an easy graham cracker crust. A simple recipe to brighten up winter months, or any time of year!
Ingredients
For the Graham Cracker Crust:
1 1/2

cups

graham cracker crumbs

(crush crackers or buy pre-crushed)

6

tablespoons

unsalted butter, melted

1/4

cup

brown sugar

Pinch of salt
For the Creamy Lemon Filling:
3

egg yolks

(you'll use the whites for the meringue)

1

14-oz

can sweetened condensed milk

(full fat highly recommended)

1/2

cup

lemon juice (from about 3 medium lemons)

Zest of the 3 medium lemons*
For the Meringue:
3

egg whites

(same eggs as the yolks used for the filling)

1/4

teaspoon

cream of tartar

1/3

cup

granulated sugar
Instructions
Preheat oven to 350 degrees F.

Make the crust: Place melted butter, graham cracker crumbs, sugar, and salt in a medium bowl and stir with a fork until fully combined. Press mixture evenly into a 9-inch pie pan, spreading it up the sides as well. I use my hands and then the bottom of a measuring cup to make sure it's really compacted. Bake for 12 minutes, until golden brown and smelling delicious. Cool for a few minutes while you make the filling and meringue.

Make the filling: In a large bowl, beat together egg yolks, condensed milk, lemon juice and lemon zest until creamy and completely smooth. I do this with a whisk or a fork, but you could do it with a mixer too. Pour into cooled crust and smooth out with a spatula.

Make the meringue: In a very clean medium bowl, beat egg whites and cream of tartar together with a hand mixer (or the whisk attachment on a stand mixer) until soft peaks form. Gradually add sugar while continuing to beat at medium-high speed, until stiff peaks form. Carefully spread meringue evenly on top of the filling. Spread the meringue to the edge of the pie to seal and make sure there are no holes or gaps; this helps keep it from shrinking and separating while baking.

Bake pie for 15 minutes, or until the meringue is golden brown. Cool completely before serving - this pie is best served chilled. Keep leftovers in the refrigerator for up to 3 days (though it is best on the day it's made).
Notes
*Note: I recommend zesting the lemons before juicing them - it's much easier.  Here is the microplane grater I use to zest citrus.
So creamy.  So good.