This single layer lemon cake with lemon cream cheese frosting is a bite of sunshine: a light and bright lemon cake, infused with lemon syrup and topped with a smooth lemon cream cheese frosting.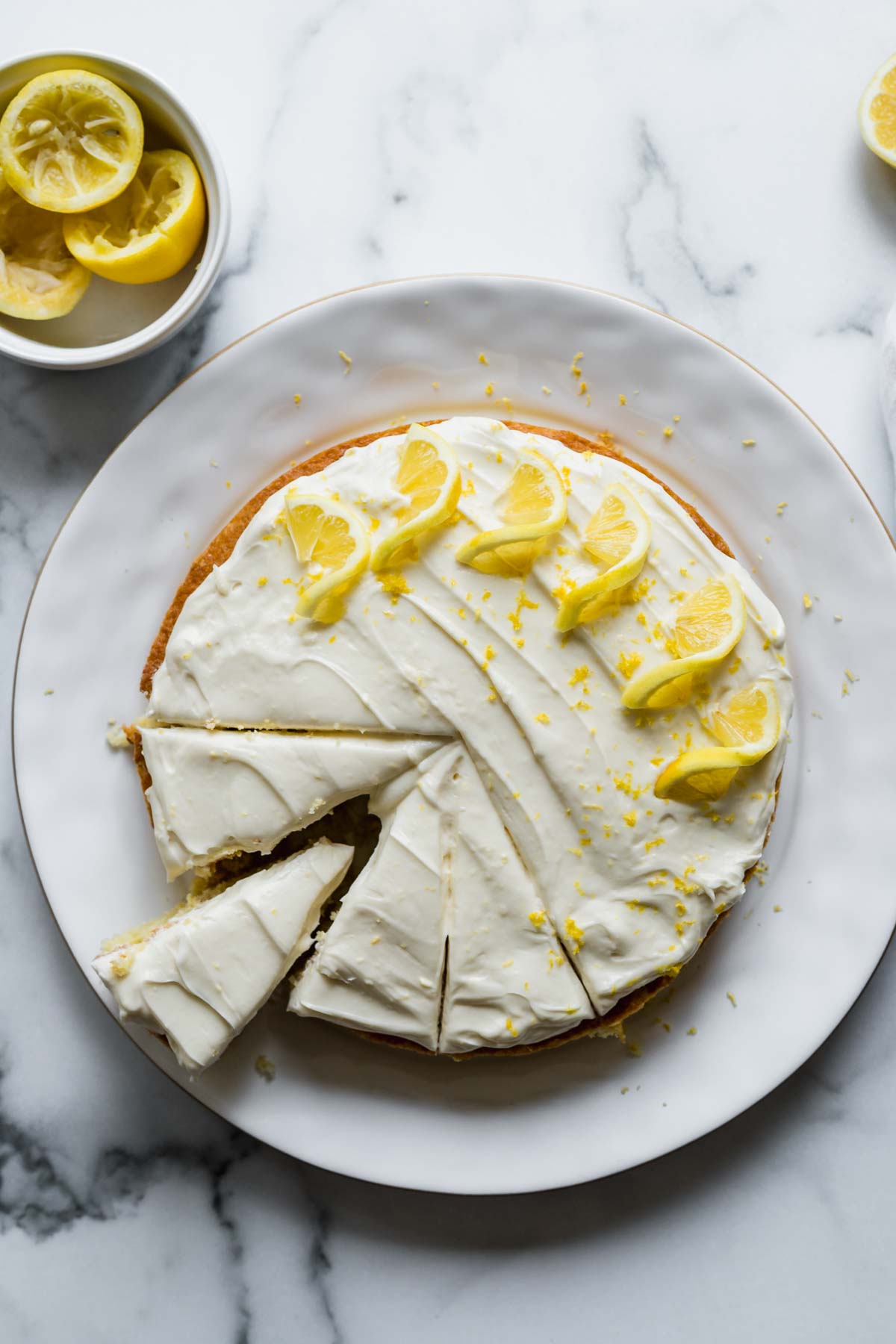 If you like lemon desserts, make sure to check out my lemon yogurt loaf cake, lemon meringue pie with graham cracker crust, and lemon ricotta pancakes.
Why you'll love this recipe
SUPER lemony flavor – this cake packs a serious lemon punch!
Soft cake texture from buttermilk in the batter
Smooth, creamy lemon cream cheese frosting to compliment the soft cake
NOT too sweet (like many of my recipes, this one has less sugar than a traditional cake but the texture and flavor is spot on)
JUST ONE LAYER – small batch bakers, rejoice!
Recipe background and development
On my birthday this year, my husband Brian and I went to dinner at RPM Italian to celebrate. The best part of the meal, shockingly, was not the amazing pasta or wine, but the small lemon cake they brought out at the end. The cake's diminutive size belied its intense, unbelievable lemon flavor. I literally gasped when I tasted it. It was like sunshine.
I knew I needed to replicate the super lemony flavor of that little cake immediately! This was a perfect candidate for a new recipe in my single layer cakes series: the best cake recipes sized down to just one (8 or 9 inch) layer. I find this is the perfect size for a small dinner party, or a couple who will eat it over the course of a few days (or…less than that).
I wanted a lemon cake positively bursting with lemon flavor, like the one I had at RPM. A couple experiments with this cake led to flavorless results at first, which no one wants. After some tinkering, I found that using the juice of the lemon as a syrup to pour over the baked cake, rather than including it in the batter, produced the brightest flavor.
And of course, topping the whole thing with a thick layer of smooth lemon cream cheese frosting never hurt anyone. I added a couple tablespoons of store-bought lemon curd to the frosting to really bring out that brightness, but it's totally optional and will be just fine without it if you don't have any lying around.
Ingredients
Here are the ingredients you'll need for this small lemon cake with lemon cream cheese frosting. For the full list of ingredients and measurements, go below to the recipe card.
All-purpose flour (you can use a 1:1 gluten-free all purpose flour blend if needed)
Baking powder and baking soda
Salt
Unsalted butter at room temperature. You can leave the butter out for an hour OR do 20 seconds in the microwave on 50% power to get the butter to room temp. This is important so it creams and aerates with the sugar!
Granulated and powdered (confectioner's) sugar
Fresh lemons – we will use the lemon zest in the batter and the lemon juice in the syrup + frosting!
Eggs. It's best if these are room temperature as well, but I've gotten away with cold eggs so don't sweat it too much.
Vanilla extract
Buttermilk (or lemon juice/vinegar + regular milk, see instructions in the recipe)
Cream cheese (full fat for the best silky texture)
Lemon curd (optional, for the frosting – really brings out the bright lemon flavor)
Equipment Needed
Mixer (stand mixer or hand mixer both work) – many of my recipes don't require a mixer, but we really do need one here for the best fluffy cake texture.
Mixing bowls
Rubber spatula
Kitchen scale – I highly recommend weighing your ingredients for most accurate results, especially the flour! This is the primary way I bake these days as it is much more precise than using measuring cups (and there are less dishes to clean).
Microplane zester (optional but VERY helpful for zesting lemons)
Citrus squeezer (this is the one I use but there are less expensive ones too)
Round or square cake pan (9 inch)
How to make a single layer lemon cake: step by step
Step 1: Preheat your oven to 350 degrees F and grease or line your cake pan with parchment paper (makes it easier to get the cake out of the pan!).
Step 2: Whisk together your dry ingredients in a medium bowl (and ideally, just measure them into that bowl using a scale for most accurate results!). This will let them blend better with the wet ingredients later so we don't have to mix as long and risk over-developing the gluten.
Step 3: Cream together room temperature butter, sugar, and lemon zest until light and fluffy. The mixture will be fragrant! Then beat in eggs, vanilla extract, and buttermilk.
Step 4: Beat in the flour mixture on the lowest possible speed just until the batter comes together. Spread batter into your prepared cake pan with a rubber spatula.
Step 5: BAKE! This will take about 30-35 minutes depending on the size of your pan. The cake is done when a toothpick inserted in the center comes out clean or with a few crumbs attached. Let cool for 10-15 minutes before removing to a plate.
Step 6: While the cake is baking, make the easy homemade lemon syrup. Microwave 1/4 c fresh lemon juice with 1 Tablespoon granulated sugar in 15 second increments, boiling (carefully) until sugar dissolves. Congratulations, you now have homemade lemon syrup!
Step 7: Poke holes in the warm baked cake with a toothpick and slowly, gently pour the lemon syrup over until it soaks in. This is where all the bright lemon flavor will come from!
Step 8: Use a mixer to make your lemon cream cheese frosting and spread over the cooled cake. The lemon curd in the frosting is optional but SO delicious and really adds to the punchy lemon flavor.
Step 9: Optionally, garnish the cake with some lemon slices or lemon zest and ENJOY!
Recipe Tips
Rub the lemon zest and sugar together before creaming with the butter. This releases the oils in the lemon zest and really brings out the lemon flavor.
Use buttermilk for best flavor in the cake, but if you don't have it I include substitution notes below the recipe. You can use yogurt or sour cream instead.
Make sure you turn the baked cake out onto your serving platter BEFORE you pour the lemon syrup over it. I made the mistake of pouring the syrup over while the warm cake was still in the pan, and when I tried to release it onto a rack it completely fell apart and stuck to everything. No bueno. Turning the cake out onto the serving platter first, then poking holes and pouring the syrup over, ensures we don't have a sad cake mess on our hands.
Make sure the syrup-soaked cake is completely cooled before you frost. If it's still warm, the frosting will melt as it's spread and the syrupy cake will stick to it.
This is a soft, sort of fragile cake, particularly once the syrup is poured over. Make sure to handle with care!
Storage
Room temperature: The cake can be stored covered at room temperature for up to 1 day. If you want to keep the frosting as intact as possible or need to transport the cake, I recommend putting a few toothpicks on top so the wrap doesn't touch the frosting.
Refrigerator: You can refrigerate the cake for up to a week, tightly covered so it doesn't dry out. Set it out at room temperature for a half hour before serving, or I also like to microwave individual slices of the cake at 50% power for 20 seconds to reheat.
Freezer: Unfrosted cake can be frozen, tightly wrapped, for up to 3 months. Leave on the counter to thaw for at least 2-3 hours, or thaw in the fridge overnight before serving, then frost once it is thawed.
More Single Layer Cake Recipes:
Single Layer Lemon Cake with Lemon Cream Cheese Frosting
This single layer lemon cake with lemon cream cheese frosting is a bite of sunshine: a light and bright lemon cake, infused with lemon syrup and topped with a smooth lemon cream cheese frosting.
Servings:
8
slices (9-inch cake)
Equipment
1 Mixer

(stand or hand mixer)

1 9-inch cake pan

(round or square)

1 citrus squeezer

(optional but helpful)

1 microplane zester

(optional but helpful)

2 mixing bowls
Ingredients
For the Lemon Cake
1 and ½

cups

all-purpose flour

(187g; measured via spoon and level method)

1

teaspoon

baking powder

½

teaspoon

baking soda

¼

teaspoon

salt

¾

cup

granulated sugar

(149g)

1 and ½

Tablespoons

lemon zest

(from about 1 large lemon)

½

cup

unsalted butter

(113g)

2

large

eggs

1

teaspoon

vanilla extract

½

cup

buttermilk

(113g)*
For the Lemon Syrup:
1/4

cup

lemon juice

(56g; from about 2 lemons)

1

Tablespoon

granulated sugar
For the Lemon Cream Cheese Frosting:
¼

cup

unsalted butter

(56g; 1/2 stick), softened to room temperature

4

ounces

cream cheese

(113g), cold

1

cup

powdered sugar

(113g)

1-2

Tablespoons

lemon juice

(to taste)

Pinch

salt

1-2

Tablespoons

lemon curd

(optional; for brightest lemon flavor)

Lemon zest and lemon slices, for garnish

(optional)
Instructions
For the Lemon Cake:
Preheat oven to 350 degrees F. Grease a 9-inch round cake pan. Trace the bottom of the cake pan on a piece of parchment paper and cut it to match. Line bottom of cake pan with the parchment.

In a medium bowl, whisk together the flour, baking powder, baking soda, and salt. Set aside.

In the bowl of a stand mixer fitted with the paddle attachment, or a large bowl if using a hand mixer, rub the sugar and lemon zest together with your fingertips until fragrant. Cream together the butter and lemon sugar on medium-high speed until pale and fluffy, 2-3 minutes.

Add the eggs one at a time, beating on medium speed until fully incorporated after each addition. Add the vanilla extract and beat briefly to combine.

Add a third of the flour mixture and beat on low speed until combined, then add half the buttermilk and beat on low speed again. Repeat with remaining third of flour mixture, the rest of the buttermilk, and end with the last third of the flour mixture. Beat on low speed until the batter is smooth, but do not overmix.

Scrape batter into the prepared pan and smooth it out with a spatula. Bake for 30-32 minutes, until lightly browned and a toothpick inserted in the center comes out clean. Let cake cool in pan on a rack for 10-15 minutes, then invert the pan onto the rack to release the cake, remove the parchment from the bottom, and flip back right side up onto a cake plate. Let cake cool while you prepare the frosting.
For the Lemon Syrup:
In a small microwave-safe bowl, microwave the lemon juice and sugar on high until bubbling and sugar has melted, about 30 seconds to 1 minute.  Whisk together and set aside.

Once the cake is on the cake plate, poke holes all over the top with a toothpick. Slowly pour the lemon syrup over the cake, letting it soak in fully. Let cake cool completely before frosting.
For the Lemon Cream Cheese Frosting:
In a large bowl using a stand mixer with the whisk attachment, or a hand mixer, beat cream cheese and butter at high speed until pale and very fluffy – this should take 2-3 minutes. You want to incorporate as much air as possible into the mixture to make it light and fluffy. Add the powdered sugar, lemon juice, lemon curd (if using), and salt, and beat at medium to high speed until fully combined and light.

Spread cooled cake with cream cheese frosting. It should make a thick layer, and can be swirled in patterns if desired.

Decorate the outer edges of cake with additional lemon zest and lemon slices if desired. Serve!
Notes
*if you don't have buttermilk, you can substitute an equal amount of sour cream or full-fat Greek yogurt, or use 1/2 tablespoon of lemon juice mixed with 1/2 cup of milk and leave to curdle for 5 minutes before using.
Cake will keep, well-wrapped in the fridge, for up to 4 days.  I like to microwave leftover pieces of cake on 50% power for 20 seconds to reheat.
Like this recipe?  Please RATE it and LEAVE A COMMENT below. Your feedback is so appreciated and helps other bakers! Also, tag me on Instagram @katiebirdbakes, and sign up for my email list to receive my recipes straight to your inbox every time I post!