This single layer lemon cake with lemon cream cheese frosting is a bite of sunshine: a light and bright lemon cake, infused with lemon syrup and topped with a smooth lemon cream cheese frosting.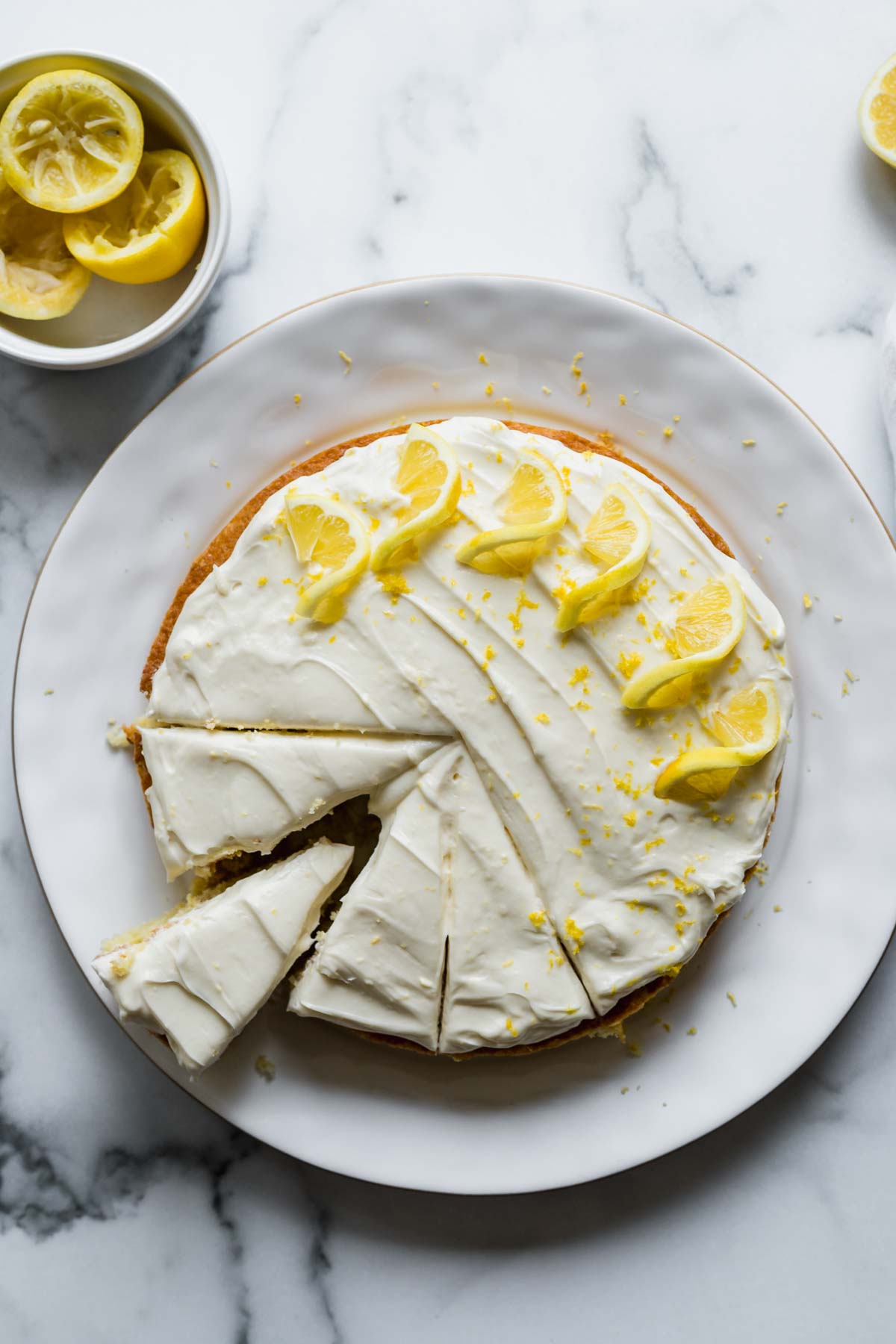 On my birthday this year, which feels like a lifetime ago but really was only 3 months back, Brian and I sat in an actual restaurant (RPM Italian) and had dinner to celebrate. The best part of the meal, shockingly, was not the amazing pasta or wine, but the small lemon cake they brought out at the end. The cake's diminutive size belied its intense, unbelievable lemon flavor. I literally gasped when I tasted it. It was like sunshine.
I think we all need a dose of sunshine right now.
I'm not going to lie, these days have been difficult. I feel bad even saying that because I know how lucky I am to be healthy and able to work from home, but there's no denying the mental and physical toll this time is taking on us all.
Living in a one bedroom apartment in a downtown high rise building was my ideal life just a few months ago, yet now it feels like a prison. Sometimes I run in place in front of the open window for 20 minutes, trying to get the right angle so the sun is on my face and I can pretend I'm outside running by the lake when a breeze comes in.
Yeah, that's the level I'm at.
Even though I am so grateful for how lucky we are, feelings simmer underneath. Worrying who of my family or friends might be sick and exhaustion at the prospect of suiting up to leave the apartment. Wondering who was breathing in the elevator right before me when I bring once-weekly groceries upstairs. Trying to avoid other people in the hallway, picking up mail, on the street, in the grocery store. Even though we're on the 9th floor of our building, we take the stairs most of the time because there's less chance of others.
Here's the part where I should talk about how I made this single layer lemon cake with lemon cream cheese frosting to combat the darkness and the doldrums, but the truth is I made it months ago, right after that dinner at RPM, before we knew any of this was headed our way. I brought it to work and shared it with my coworkers, in the same room, sharing the same knife to cut it, likely less than 6 feet apart. It feels like another life.
I feel like I'm in a time warp and I'm not entirely sure where the days go, but I did finally manage to get these photos edited and the recipe written up at the request of one of those coworkers, and I think it's an appropriate one for this moment.
Lemon always tastes like Italy and summer to me, like the summer I spent studying in Rome in college. The lemon gelato was the best and I'd meander down the cobblestone streets trying to lick it all before it melted in little rivers down my hand.
I hope this cake will similarly usher in brighter, happier days ahead.
Notes on this one layer lemon cake:
Once again, research via google didn't turn up many single layer lemon cakes, other than giant sheet cakes which nobody has a need for right now. I continue to be surprised by the lack of one layer cake recipes out there, but I'm glad I can provide something that's missing.
See the rest of my single layer cake recipes here.
I wanted a lemon cake positively bursting with lemon flavor, like the one I had at RPM. A couple experiments with this cake led to flavorless results at first, which no one wants. After some tinkering, I found that using the juice of the lemon as a syrup to pour over the baked cake, rather than including it in the batter, produced the brightest flavor.
And of course, topping the whole thing with a thick layer of smooth lemon cream cheese frosting never hurt anyone. I added a couple tablespoons of store-bought lemon curd to the frosting to really bring out that brightness, but it's totally optional and will be just fine without it if you don't have any lying around.
So, here are my tips for single layer lemon cake success:
Rub the lemon zest and sugar together before creaming with the butter. This releases the oils in the lemon zest and really brings out the lemon flavor.
Use buttermilk for best flavor in the cake, but if you don't have it I include substitution notes below the recipe. You can use yogurt or sour cream instead.
Make sure you turn the baked cake out onto your serving platter BEFORE you pour the lemon syrup over it. I made the mistake of pouring the syrup over while the warm cake was still in the pan, and when I tried to release it onto a rack it completely fell apart and stuck to everything. No bueno. Turning the cake out onto the serving platter first, then poking holes and pouring the syrup over, ensures we don't have a sad cake mess on our hands.
Make sure the syrup-soaked cake is completely cooled before you frost. If it's still warm, the frosting will melt as it's spread and the syrupy cake will stick to it.
This is a soft, sort of fragile cake, particularly once the syrup is poured over. Make sure to handle with care!
I hope you enjoy baking this recipe, for yourself and those you love, to bring a little sunshine and brightness when we really need it. Thank you, as always, for your support and constant feedback! Stay well.
Single Layer Lemon Cake with Lemon Cream Cheese Frosting
This single layer lemon cake with lemon cream cheese frosting is a bite of sunshine: a light and bright lemon cake, infused with lemon syrup and topped with a smooth lemon cream cheese frosting.
Ingredients
For the Lemon Cake
1 ½

cups

all-purpose flour

(187g; measured via spoon and level method)

1

teaspoon

baking powder

½

teaspoon

baking soda

¼

teaspoon

salt

¾

cup

granulated sugar

(149g)

1 ½

Tablespoons

lemon zest

(from about 1 large lemon)

½

cup

unsalted butter

(113g)

2

large

eggs

1

teaspoon

vanilla extract

½

cup

buttermilk

(113g)*
For the Lemon Syrup:
1/4

cup

lemon juice

(56g; from about 2 lemons)

1

Tablespoon

granulated sugar
For the Lemon Cream Cheese Frosting:
¼

cup

unsalted butter

(56g; 1/2 stick), softened to room temperature

4

ounces

cream cheese

(113g), cold

1

cup

powdered sugar

(113g)

1-2

Tablespoons

lemon juice

(to taste)

Pinch

salt

1-2

Tablespoons

lemon curd

(optional; for brightest lemon flavor)

Lemon zest and lemon slices, for garnish

(optional)
Instructions
For the Lemon Cake:
Preheat oven to 350 degrees F. Grease a 9-inch round cake pan. Trace the bottom of the cake pan on a piece of parchment paper and cut it to match. Line bottom of cake pan with the parchment.

In a medium bowl, whisk together the flour, baking powder, baking soda, and salt. Set aside.

In the bowl of a stand mixer fitted with the paddle attachment, or a large bowl if using a hand mixer, rub the sugar and lemon zest together with your fingertips until fragrant. Cream together the butter and lemon sugar on medium-high speed until pale and fluffy, 2-3 minutes.

Add the eggs one at a time, beating on medium speed until fully incorporated after each addition. Add the vanilla extract and beat briefly to combine.

Add a third of the flour mixture and beat on low speed until combined, then add half the buttermilk and beat on low speed again. Repeat with remaining third of flour mixture, the rest of the buttermilk, and end with the last third of the flour mixture. Beat on low speed until the batter is smooth, but do not overmix.

Scrape batter into the prepared pan and smooth it out with a spatula. Bake for 30-32 minutes, until lightly browned and a toothpick inserted in the center comes out clean. Let cake cool in pan on a rack for 10-15 minutes, then invert the pan onto the rack to release the cake, remove the parchment from the bottom, and flip back right side up onto a cake plate. Let cake cool while you prepare the frosting.
For the Lemon Syrup:
In a small microwave-safe bowl, microwave the lemon juice and sugar on high until bubbling and sugar has melted, about 30 seconds to 1 minute.  Whisk together and set aside.

Once the cake is on the cake plate, poke holes all over the top with a toothpick. Slowly pour the lemon syrup over the cake, letting it soak in fully. Let cake cool completely before frosting.
For the Lemon Cream Cheese Frosting:
In a large bowl using a stand mixer with the whisk attachment, or a hand mixer, beat cream cheese and butter at high speed until pale and very fluffy – this should take 2-3 minutes. You want to incorporate as much air as possible into the mixture to make it light and fluffy. Add the powdered sugar, lemon juice, lemon curd (if using), and salt, and beat at medium to high speed until fully combined and light.

Spread cooled cake with cream cheese frosting. It should make a thick layer, and can be swirled in patterns if desired.

Decorate the outer edges of cake with additional lemon zest and lemon slices if desired. Serve!
Notes
*if you don't have buttermilk, you can substitute an equal amount of sour cream or full-fat Greek yogurt, or use 1/2 tablespoon of lemon juice mixed with 1/2 cup of milk and leave to curdle for 5 minutes before using.
Cake will keep, well-wrapped in the fridge, for up to 4 days.  I like to microwave leftover pieces of cake on 50% power for 20 seconds to reheat.
Like this recipe? Please rate it and leave a comment or tag me on Instagram @katiebirdbakes, and sign up for my email list to receive my recipes straight to your inbox every time I post!