If you thought you couldn't make homemade fudgy brownies without a box mix…you were wrong.  
I know you. You're like me. How do I know this?
Well, if you're reading this page, you have an interest in the real kind of baking; the creaming butter, sifting flour, whisking in eggs, folding in chocolate kind of baking. Some people say they like baking, but when they say that, they really mean the "dump mix into bowl with water oil and eggs" kind of baking. And don't get me wrong – there is a time and place for that kind of baking, and there's no problem with it, if that's your thing.
But we all know, that's not my thing.
I'm a get-your-hands-dirty, make-your-own, homemade-is-best kind of girl, and I'm not ashamed to admit it. I make my own nut butters and cinnamon rolls, and you will not see me using a cake mix unless I have run out of all other ingredients and it's an emergency.
But brownies. Brownies, well, they've given me some trouble.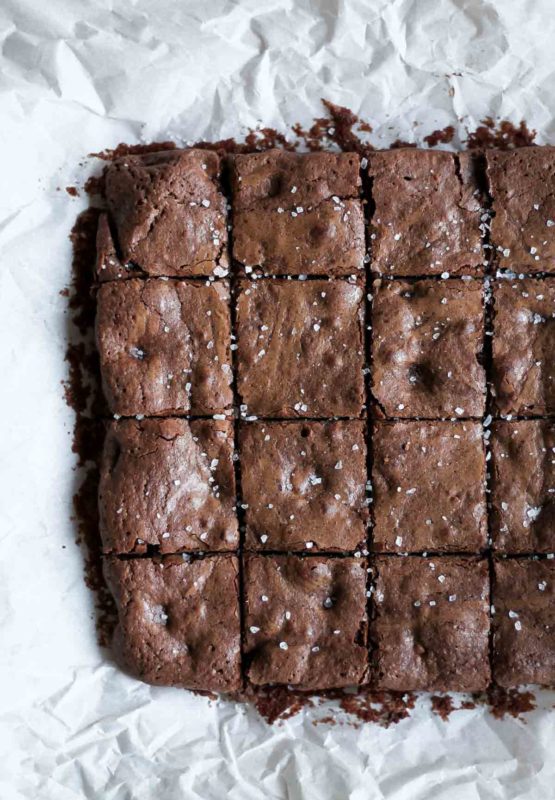 I've been trying for years (honestly, years) to concoct a homemade, from-scratch fudgy brownie recipe that was ACTUALLY FUDGY, and not essentially chocolate cake hinting at fudginess or bordering on fudgy. I kept wondering to myself: why is it that all homemade brownie recipes seem to produce dry and cakey brownies, no matter how fudgy they promise to be? Are we really unable to replicate the luscious, deep chocolate flavor and texture of a boxed brownie at home?
Yet again and again, I tried and failed. So, embarrassingly, up until now, when I've wanted fudgy brownies, I've resorted to a box mix. I am not proud of this.
(I will say that Trader Joe's Truffle Brownie Mix is insanely, insanely good for a box mix. But still, it irked me. I knew I could do better.)
The Chocolate Factor
I thought perhaps it was a problem with my go-to recipe (you saw a version with these Midnight Brownies), adapted from Dorie Greenspan. You see, some recipes use melted chocolate, and some recipes use cocoa powder mixed with butter. That recipe uses cocoa powder. I surmised that maybe using cocoa powder added too little fat and resulting moisture, meaning the brownies became drier and more cake-like as they baked. So I tried a couple recipes that used melted chocolate, and more butter, instead. They were slightly better, but I found them overpoweringly rich and still just not the right texture.
It wasn't until I saw the recipe Sally's Baking Addiction posted for fudgy brownies that I realized the secret: you have to use melted chocolate AND cocoa powder, not either or. I messed around with some ratios in my normal brownie recipe, and …Eureka!! Fudgy brownies with intense chocolate flavor! Sally is a genius.
So, there are not one, not two, but THREE forms of chocolate in these brownies: melted chocolate, cocoa powder, and chocolate chips. If I'm going to make something chocolatey, you better believe I'm going all the way.
Brian has declared these "the best brownies he's ever had" which, to me, is quite a compliment. He's eaten quite a few brownies in his life. I clearly have too, and I have to say, I don't think I need another brownie recipe. This is the one. It has the texture and flavor of the deepest chocolate fudgy brownies, and to be honest, I think it's even better than a box mix.
A few important notes before we go:
Don't skimp on the sugar. A cup of sugar may seem like a lot, but since we're using unsweetened cocoa powder here, we need make up for it. Plus, the sugar creates that beautiful shiny papery crust we all love so much.
Don't use a mixer – a bowl and a spoon is the name of the game here. You don't want to whip too much air into these brownies because we want them to be dense, and it's way too easy to overmix with a mixer.
The recipe calls for a small amount of espresso powder, which enhances the chocolate flavor without tasting like espresso. You can buy it at most grocery stores or Amazon. It's ok if you don't have it, but I HIGHLY recommend it.
Definitely put coarse sea salt on top once the brownies are baked. Similar to the espresso powder, the salt brings out the sweetness and chocolate flavor. They were made for each other.
Ok, let's do this!  I hope you love these as much as we do.
Favorite Fudgy Brownies
If you thought you couldn't make fudgy brownies without a box mix…you were wrong.

Ingredients
6

tablespoons

unsalted butter

(85g)

1/4

cup

chopped dark chocolate or chocolate chips

(1.5 oz; 43g)

1

cup

granulated sugar

(200g; you can go a little under, but stay above 3/4 cup)

2

large

eggs

1/4

teaspoon

espresso powder

(optional)*

1

teaspoon

pure vanilla extract

1/2

teaspoon

salt

1/2

cup

cocoa powder

(42g)

1/2

cup

all-purpose flour

(63g)

1/2

cup

chocolate chips

(85g)

Coarse sea salt, for sprinkling on top
Instructions
Preheat your oven to 350 degrees F. Grease an 8×8 square pan or line with parchment paper. Set aside.

In a large microwave-safe bowl, melt the butter and 1/4 cup chopped chocolate or chocolate chips in 30-second intervals, stirring in between, until melted and smooth. This took about 1 minute in my microwave.

Whisk in the sugar. If the mixture is really hot, let it cool for a minute before whisking in the eggs one at a time (you don't want to cook the eggs!), until fully combined.

Whisk in the espresso powder, vanilla, salt, and cocoa powder until the mixture is smooth and well-combined. Stir in the flour just until the mixture is smooth and you no longer see clumps – but do not overmix, and don't use a mixer. We don't want to incorporate too much air in the batter, or the brownies won't be fudgy.

Stir in the chocolate chips, then scrape the batter into the prepared pan. Bake for 30-32 minutes, until a toothpick inserted in the center comes out clean or with a couple crumbs attached.

Sprinkle coarse sea salt over the top, and serve brownies warm, preferably with a generous dollop of vanilla ice cream.
Notes
*the espresso powder will not make the brownies taste like coffee – it enhances the chocolate flavor.  You can buy it at most grocery stores in the baking aisle, or on Amazon.
Brownies will keep, well-wrapped at room temperature (I pack them tightly in a tupperware), for up to 5 days.
Recipe adapted from my Midnight Brownies and Sally's Baking Addiction.
Like this recipe? Please rate it and leave a comment, and sign up for my email list to receive my recipes straight to your inbox every time I post!