These peanut butter swirl brownies are truly decadent and rich in every bite. They're the ultimate fudgy dark chocolate brownies swirled with salty, creamy peanut butter on top!
This post is sponsored by Bob's Red Mill and Bake from Scratch Magazine as part of their Better Baking Academy – but the opinions (and many devoured brownies during the testing process) are all mine.
Hello hello! We're making super fudgy brownies today!
And not just any brownies. Peanut butter swirl brownies…oh yes. If you could pick my two favorite flavors in the world and bring them together, you would have peanut butter and dark chocolate…and these peanut butter swirl brownies would be the result.
Peanut Butter Swirl Brownies: Details
I'm so excited to share a peanut butter brownie recipe with you as my interpretation of this month's Better Baking Academy recipe – The Ultimate Brownie. The Better Baking Academy is a totally free, online baking school developed by Bob's Red Mill and Bake from Scratch Magazine. Each month they will release a new recipe focusing on fundamental baking skills, with with step-by-step photos and expert tips.
When Bob's and Bake from Scratch reached out to me to play with their new recipe for The Ultimate Brownie, it was a no-brainer. I already have a few brownie recipes on here, including a flourless skillet brownie and my favorite fudgy brownies, but seriously, you can never have enough brownie recipes in your life.
If you want to hear me talk about all things brownies, chocolate, how I learned to bake and my double life as an attorney and blogger, I'll be appearing this week on The Crumb Podcast with Brian Hart Hoffman and Kyle Grace Mills from the Bake from Scratch editorial team. I had so much fun talking to them about this peanut butter swirl brownie recipe and love their passion for baking! You can listen to it anywhere you get your podcasts.
Brownies are my go-to for any party, birthday, breakup, bad day, good day, and random Tuesday. They make everyone light up and never fail to satisfy that chocolate craving at the end of a meal…if they're done correctly.
Unfortunately, there are way too many subpar brownie recipes out there. And let's not even talk about the fact that most people rely on brownie mixes to do the job…some people don't even think it's possible to make a homemade fudgy brownie without a box mix.
Well I am here to say: false.
Tips for success: homemade fudgy peanut butter brownies
You can read the Better Baking Academy post for more detail on this, but for me after much trial and error, it comes down to the following:
Melted, good quality chocolate. This adds moisture, flavor, fat, and that amazing mouthfeel we all crave. I like to use a dark chocolate with at least 60% cocoa for best flavor. In this recipe we are melting the butter and chocolate together for fudgiest results.
Eggs. The proteins provide structure to the brownie as it bakes, but also richness and fat from the yolk. Often you'll see recipes add an extra egg yolk for even more richness (it's not needed here).
Slightly under-baking. Anyone who has baked a box mix knows this, but if you bake brownies just a couple minutes under the recommendation, the fudge factor is massively higher. Don't worry, everything is fully cooked by the time we take them out.
Refrigeration. This was a new technique to me with this recipe, but it really works! After letting the pan cool for a couple minutes, we put the entire thing in the fridge (sitting on a tea towel to protect the shelf) until cold, and once cut, we store the brownies covered in the fridge too. It keeps the brownies from drying out and losing their richness.
How to make a peanut butter swirl on brownies
Now, let's talk about the final element: the peanut butter on these peanut butter swirl brownies.
Is there a better pair than peanut butter and chocolate? I really don't think so. But there's definitely a limit to how much peanut butter one can use for the right balance.
I personally don't want huge mouthfuls of peanut butter in my fudgy brownie, so I kept it to a thin swirl sitting on top of the batter. I used just 1/4 cup of room temperature, unsweetened, natural creamy salted peanut butter (the kind with just peanuts and salt as the ingredients – Trader Joe's, Whole Foods, and most major grocery stores all have great versions).
You can also use shelf-stable peanut butter if you prefer. I tested with Skippy Natural and it definitely still worked, but because it has a thicker, less liquid texture, it didn't swirl quite as prettily.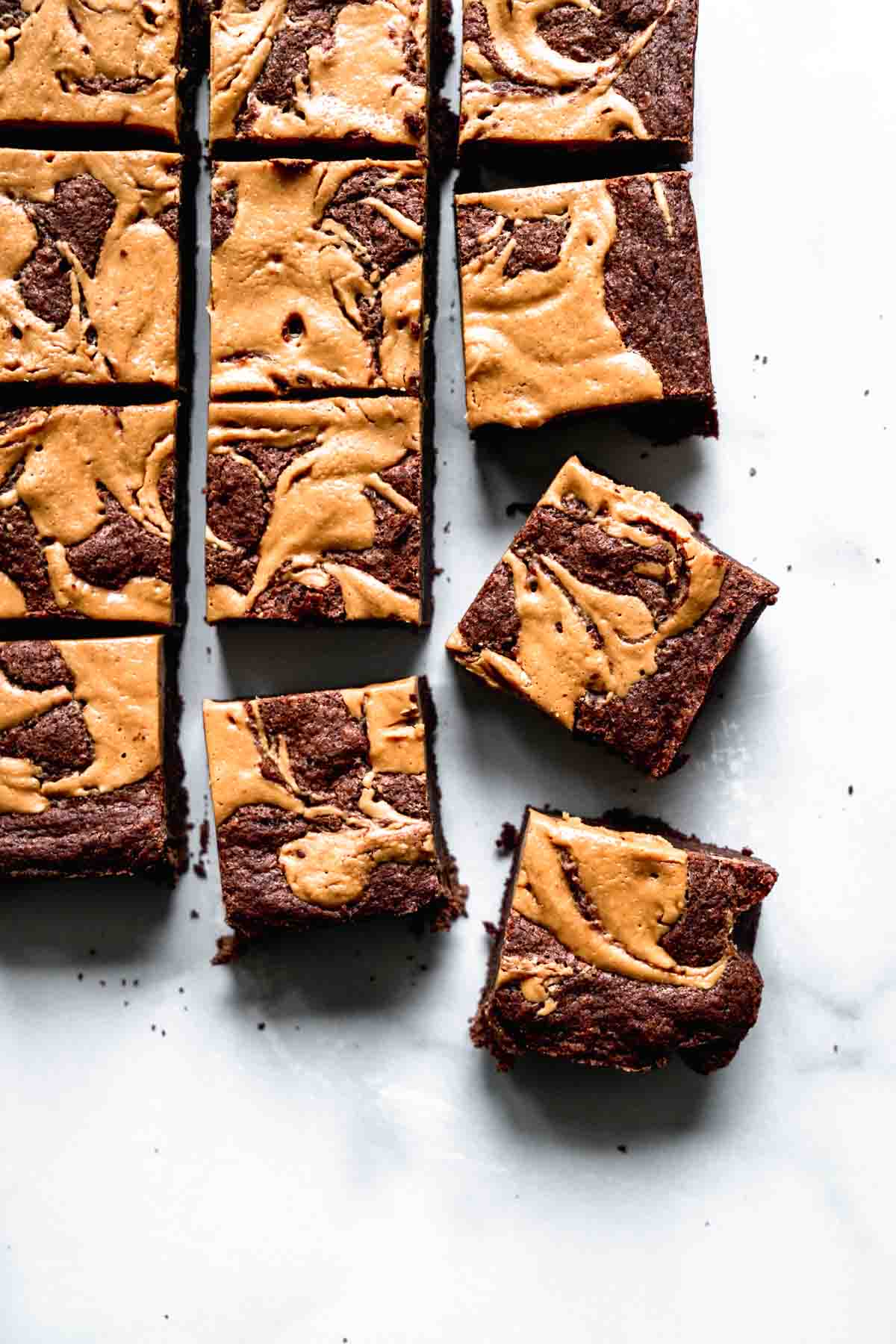 My best tip to getting a good pattern with the swirl is to dollop the peanut butter evenly in very small spoonfuls over top, then use a toothpick to randomly swirl it around. Don't do it in a uniform way; rustic is best here. See the video for this post for my *highly scientific* swirling technique (haha).
For the cleanest cuts on the brownies, make sure they are completely cold and use a large, sharp knife like a chef's knife so you can cut completely across the width of them. Wipe off the knife between each cut!
The best part is when you finally get to sink your teeth into that first bite of fudgy, peanut butter swirl brownie decadence. The richness and sweet chocolate depth of the brownie contrasts beautifully with the creamy, salty peanut butter.
These are definitely not diet food…but they are worth it.
More Brownie Recipes
Peanut Butter Swirl Brownies
The ultimate fudgy dark chocolate brownies swirled with salty, creamy peanut butter on top! These peanut butter swirl brownies are truly decadent.
Ingredients
4

oz

dark chocolate, chopped

(112g – about 3/4 cup)

½

cup

unsalted butter

(113g)

½

cup

granulated sugar

(100g)

½

cup

brown sugar, packed

(100g)

2

large eggs

1

teaspoon

pure vanilla extract

(4g)

⅔

cup

all-purpose flour

(80g)

¼

cup

cocoa powder

(21g)

1

teaspoon

salt

(3g)

½

teaspoon

espresso powder

(1g)

¼

cup

natural salted creamy peanut butter**, warmed until pourable

(67g)
Instructions
Preheat your oven to 325 degrees F. Grease an 8×8 square pan or line with parchment paper. Set aside.

In a large bowl set in the top of a double boiler, or in the microwave in 30 second increments, melt the dark chocolate and butter, stirring occasionally, until smooth and glossy. Turn off heat, whisk in granulated and brown sugar, and let cool slightly.

Whisk in the eggs one at a time until fully combined, followed by the vanilla.

In a medium bowl, whisk together flour, cocoa powder, salt, and espresso powder.

Add dry ingredients to the wet and stir together just until a stiff batter forms (this is thicker than normal brownie batter!).

Scrape the batter into the prepared pan. Dollop small spoonfuls of the peanut butter evenly over the batter, then swirl with a toothpick until desired pattern is reached.

Bake brownies for 35-40 minutes, until a toothpick inserted in the center comes out with just a few crumbs attached.

Let brownies cool for a few minutes, then transfer to the fridge on top of a tea towel to cool completely in the pan. Store in the fridge for maximum fudginess!
Notes
*If you'd like, you can substitute ¼ cup (30 grams) of chickpea/garbanzo bean flour for ¼ cup or 30 grams of the all-purpose flour. The results are the same!
**For best swirl, use a natural peanut butter with only peanuts and salt as the ingredients.  The more liquid texture of natural peanut butter produces the best swirl.  Shelf stable peanut butter can be substituted if desired.
Brownies will keep, well-wrapped in the fridge for utmost fudginess, for up to 5 days.
Like this peanut butter brownies recipe? Please rate it and leave a comment or tag me on Instagram @katiebirdbakes, and sign up for my email list to receive my recipes straight to your inbox every time I post!