This fall-spiced chocolate chip pumpkin bread is made in one bowl with no mixer using simple ingredients like olive oil and Greek yogurt, and of course, it's loaded with chocolate chips! This will be your new favorite pumpkin bread recipe.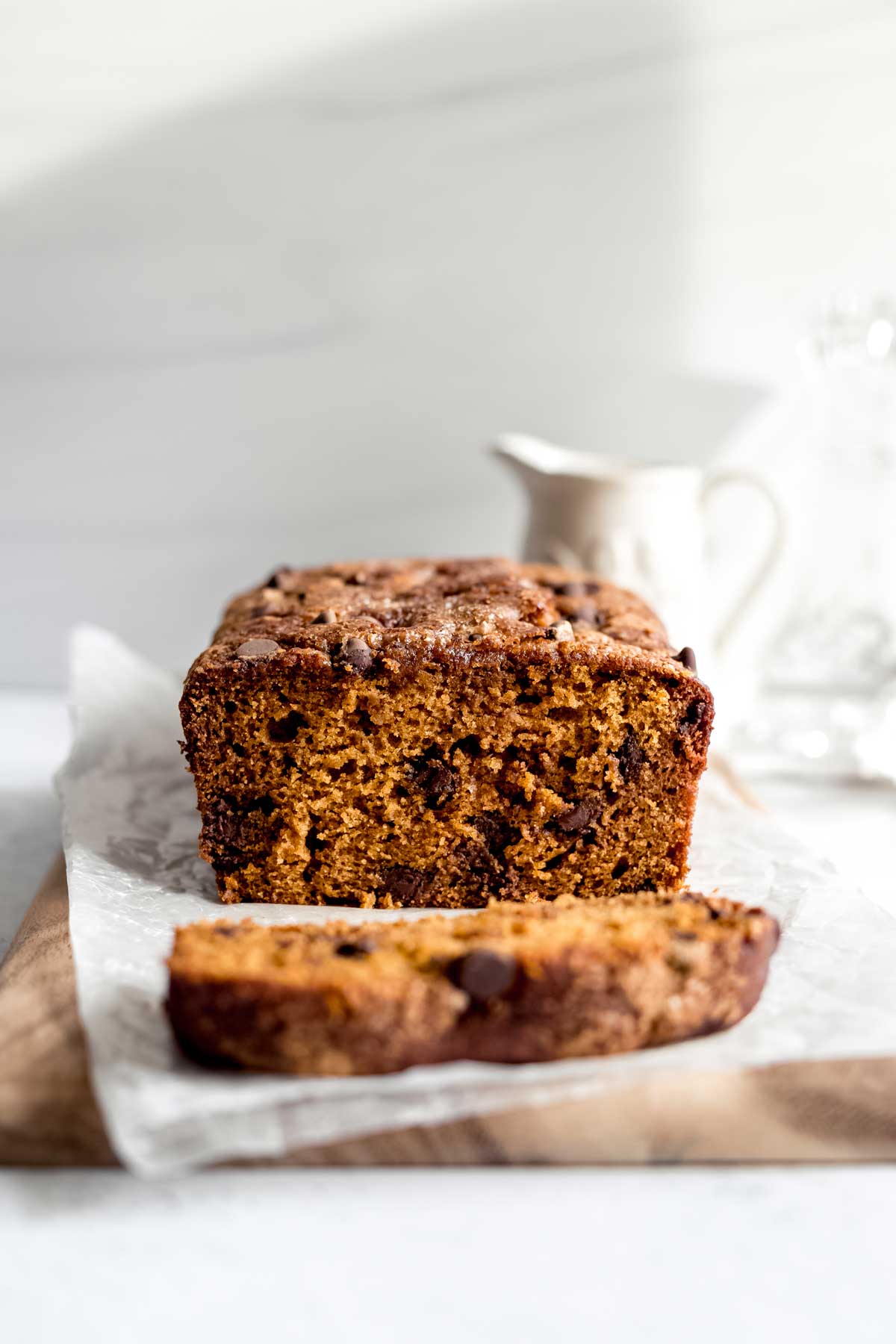 We're talking pumpkin bread today! One of my favorite culinary delights of fall, besides baked apple cider donuts and caramel apple galettes, of course. Pumpkin bread is nostalgic, homey, and comforting.
Definitely needing that right now – if there were ever a bread that could soothe our 2020 woes, this chocolate chip pumpkin bread is it.
Let's talk about it.
I'm actually surprised I haven't published a recipe for pumpkin bread yet. I'm the girl who would order a slice pretty much every time I went to Starbucks in college, whether it was fall or not. And yes, I ordered my fair share of PSLs too. I may or may not still get a shot of the syrup in my lattes when I go…but just one, because that stuff is WAY too sweet.
Let's call this chocolate chip pumpkin bread the grown-up version of my college self's basic pumpkin obsession.
Problem: Most pumpkin bread recipes have way too much sugar.
When doing research on the various incarnations of pumpkin bread recipes in the world, one thing became abundantly clear: most rely on a virtual mountain of sugar for flavor. And I get it, because pumpkin puree on its own is not sweet — it's a squash, not a fruit — but there is no need for 1.5 cups of sugar in ONE loaf. I knew I could do better.
This was a similar problem to the one I encountered when developing my recipe for the easiest banana bread, so I had some tricks up my sleeve that I thought might work for pumpkin bread too.
In that recipe, I used a combination of only 1/3 cup each of brown and granulated sugar for sweetness, combined with the bananas. The issue is that when you reduce the sugar in a recipe, you also lose some moisture and flavor. You have to compensate for that, and I did so with yogurt and melted butter in that recipe.
For this chocolate chip pumpkin bread recipe, I knew I needed slightly more sugar than banana bread because of the squash's lack of sweetness, but not much more. A hefty dose of yogurt, olive oil, and spices (modeled after the ratios in my spiced pumpkin bundt cake) would provide flavor and moisture, and chocolate chips would provide sweetness on their own.
Ingredients
So after a few (tasty) tests, here's what it came down to:
Pumpkin puree. 1 cup of the totally unsweetened, NOT pumpkin pie filling canned variety. Many people say you can only use Libby's because it's thicker and less watery but I used Trader Joe's, Whole Foods, and a random store brand in my tests, all to equal effectiveness.
Brown sugar. 3/4 of a cup will do it. Did you know brown sugar is just granulated sugar mixed with molasses? The molasses provides moisture and flavor, and we need that in this pumpkin bread!
Greek yogurt. 1/2 cup provides moisture, flavor, and protein.
Olive oil. Just 1/3 cup. I decided to use olive oil because most pumpkin breads call for oil rather than butter. Oil lends itself to a beautifully moist crumb. You can use extra virgin or a refined variety, and you won't notice the flavor. If you prefer, melted butter or coconut oil would work too.
Egg. Just one, for structure.
The good spices: vanilla, cinnamon, nutmeg, ginger, and cloves. You could use 2 teaspoons of pumpkin pie spice instead, but I like controlling the ratios.
Chocolate chips: I prefer to use dark chocolate chips, but use what you like!
A sprinkle of turbinado or coarse sugar (and more chocolate chips) on top. This creates an epic, crackly crust that shatters when you bite into it! Just look!
I mean, that crust. It's unreal. Might be my favorite part of this entire affair, though the spices and the combination of pumpkin + chocolate are hard to beat.
When you bake this chocolate chip pumpkin bread, prepare for your house to smell like fall and for everyone to come running to the kitchen. If I could make this smell into a candle, I would – but it still wouldn't compare.
Highly recommend slathering a warm slice with some salted butter and allowing it to seem into the cracks and crevices and mingle with the melty chocolate chips. That first bite you take is seriously heavenly. Hot coffee on the side would not be amiss here.
The texture of this pumpkin bread is totally plush, the crumb is dense, and the sweetness is just right. Reducing the sugar allows the pumpkin itself and the spices to shine through. You'll notice I went heavier on the cloves than most recipes do, and that's because 1. I love the scent and taste of cloves and 2. it's distinctive. If you don't like cloves, you can reduce or eliminate and it will be just fine.
What I need, what WE need, is this chocolate chip pumpkin bread on repeat every day for the rest of the fall season. It tastes like, as my friend Colleen put it, "fall in my mouth. Truly heavenly."
Can't argue with that.
Chocolate Chip Pumpkin Bread
This fall-spiced chocolate chip pumpkin bread is made in one bowl with no mixer using simple ingredients like olive oil and Greek yogurt, and of course, it's loaded with chocolate chips! This will be your new favorite pumpkin bread recipe.
Ingredients
1

cup (227g)

canned pumpkin puree

(not pumpkin pie filling)

¾

cup (154g)

brown sugar, packed

½

cup (125g)

plain Greek yogurt

⅓

cup (65g)

olive oil

1

large egg

1

teaspoon

vanilla extract

1

teaspoon

ground cinnamon

¼

teaspoon

ground nutmeg

¼

teaspoon

ground ginger

¼

teaspoon

ground cloves

1

teaspoon

baking soda

¼

teaspoon

salt

1½

cups (188g)

all-purpose flour

(measured via spoon and level method if not weighing)

½

cup (85g)

chocolate chips, plus more for sprinkling over top

1

Tablespoon

turbinado or coarse sugar, for sprinkling over top
Instructions
Preheat your oven to 350 degrees F and line a loaf pan (9×5" or 8.5×4.5") with parchment paper, or grease well. Set aside.

In a large bowl, whisk together pumpkin puree, brown sugar, Greek yogurt, olive oil until well-combined. Add the egg and vanilla, and whisk again until smooth and slightly thicker.

Whisk in spices, baking soda, and salt until evenly distributed and smooth. You'll notice I didn't have you mix these with the flour – we want the spices evenly incorporated into the batter before adding flour so less stirring (and therefore gluten formation) is required once the flour is added.

Dump your flour into the bowl and stir gently with a spatula or fork until a fairly smooth and well-combined batter is formed. Stop stirring once there are no pockets of flour remaining.

Fold in chocolate chips gently until evenly distributed through the batter.

Scrape batter into prepared loaf pan. Top with additional chocolate chips and turbinado sugar, if desired.

Bake for 45-55 minutes, until a toothpick inserted in the center comes out clean or with a few moist crumbs attached. Cool completely in pan on a wire rack before turning out and slicing.
Notes
Store: Cover and store leftover chocolate chip pumpkin bread at room temperature for up to 3-4 days, or in the refrigerator for up to a week.
Spices: you can substitute 2 teaspoons of pumpkin pie spice in place of the individual spices.
Greek yogurt:

I used 2%, but 0% or whole will also work.  Could also

 substitute sour cream if desired.
Olive oil: can substitute another oil or melted butter if desired.
Flour: can substitute an equal amount of all-purpose GF mix with xanthan gum, or can use replace up to 1/2 cup with finely ground oat flour for a bit more chew to the bread.
Pumpkin bread recipe adapted from my spiced pumpkin bundt cake and easiest banana bread.
Like this recipe? Please rate it and leave a comment or tag me on Instagram @katiebirdbakes, and sign up for my email list to receive my recipes straight to your inbox every time I post!