These apple cider donut bars are soft, warmly spiced, and full of apple cider flavor! Reduced apple cider in the dough makes all the difference. Top with a sprinkle of cinnamon sugar for extra crunch on these apple cider blondies.
These apple cider blondies…or apple cider donut bars, whatever you'd like to call them…have been on a long journey.
They started as cookies, way back in September. We were visiting my parents in Philadelphia and I could not get the idea of a crackled, spiced apple cider cookie out of my mind. I wanted to bring out mega apple flavor by employing the same reduced cider trick I'd used to great success in my baked apple cider donuts. Boiling apple cider down to a syrup concentrates its flavor and serves as a sweetener, and the extra liquid worked well in those cake-like donuts.
Cookies on the other hand, not so much.
I mean, the cookies were…fine. I used the right spices and brown sugar for depth, rolled them in sugar, and excitedly watched as they baked. But the final result were puffy, cakey cookies that didn't actually taste all that much like apple cider, and were nothing like the intensely crackled and chewy cookies of my dreams.
We absolutely still ate them. We're not barbarians.
But as we sat at the dinner table making our way through a plate of them, my mom said, "wouldn't these be better as apple cider donut bars?"
Ding ding ding. She was right. Moms always are.
So began the life of these apple cider blondies. But they still had a long way to go before they became the soft, chewy, well-spiced specimens you see in these photos.
I decided the bars needed some heft and so added oats to my recipe. I also discovered that when short on time, it is possible to reduce apple cider in the microwave! More on that below, but my first experiment with apple cider bars wasn't my best. They were too thin, a bit dry, and needed some interest on top.
We ate them anyway. And I continued in pursuit of my goal of apple cider donut bar perfection for the next two months, in multiple kitchens, as one does during the traveling circus show that is 2020.
To make a long story short: after FIVE iterations (in fact, I baked and photographed the fourth iteration thinking it was final, but immediately decided it was not) involving varying levels of spices, oats, glaze vs. no glaze, sugar topping vs. no sugar topping, and sizes of pans, I finally have an apple cider blondie recipe that I am proud to share.
Apple Cider Blondies: Tips for Success
Reducing the apple cider:
If you do it on the stove, it should take about 10 minutes at a low boil. Stir occasionally and check with a glass measuring cup to make sure you don't boil it down too far.
If you do it in the microwave, I recommend using a 2-cup glass Pyrex measuring cup so you can tell exactly how much the cider had reduced by at a glance. It should take 8-9 minutes in the microwave on high to reduce 1 cup of apple cider down to 1/2 cup.

Make sure you use a container that is double the volume of the apple cider you're reducing, since it boils pretty vigorously. Also, cover the container with wax paper or plastic wrap (poke a couple holes for steam) so you don't make your microwave messy. Very important.
Let the cider/butter mixture cool
Once the cider is reduced, stir in the butter and let it melt. If you're using the microwave, you may need to give it another 30 second nuke to help it along.
Make sure you let the mixture cool for 2-3 minutes before mixing it with the egg, or you'll have scrambled egg in your bars, and no one wants that.
No need for a mixer
Once the cider is reduced, the mixing process for these apple cider blondies happens quickly and easily in one bowl.
I like to use a fork instead of a whisk, but it's your preference. Whisk the wet ingredients, then the spices, then stir in the oats and the flour.
Do not over mix once the flour is added. Mix just until you have a cohesive batter. I say it all the time, but this is the number one mistake people make in baking (other than failing to measure their flour correctly in the first place). Over-mixing leads to excessive gluten formation, which leads to tough, chewy baked goods. Great for bread, not great for cookies and bars.
A sprinkle of sugar on top makes a big difference
As I mentioned, I tried multiple variations of toppings on these apple cider blondies, from glazes to cinnamon sugar sprinkles, and in the end I found the best accompaniment to be a bit of melted butter brushed over the baked bars and a simple sprinkle of granulated or turbinado sugar. Use what you have; it will be great either way. The sugar forms a lovely crackly layer on top, which brings out the apple flavor rather than overpowering it.
You could add a little cinnamon to the sugar if you'd like! I just didn't find it necessary since the bars are already quite spiced.
For the look in my photos, just sprinkle a tiny bit more sugar over top before serving. It gives them a subtle crunch reminiscent of apple cider donuts 🙂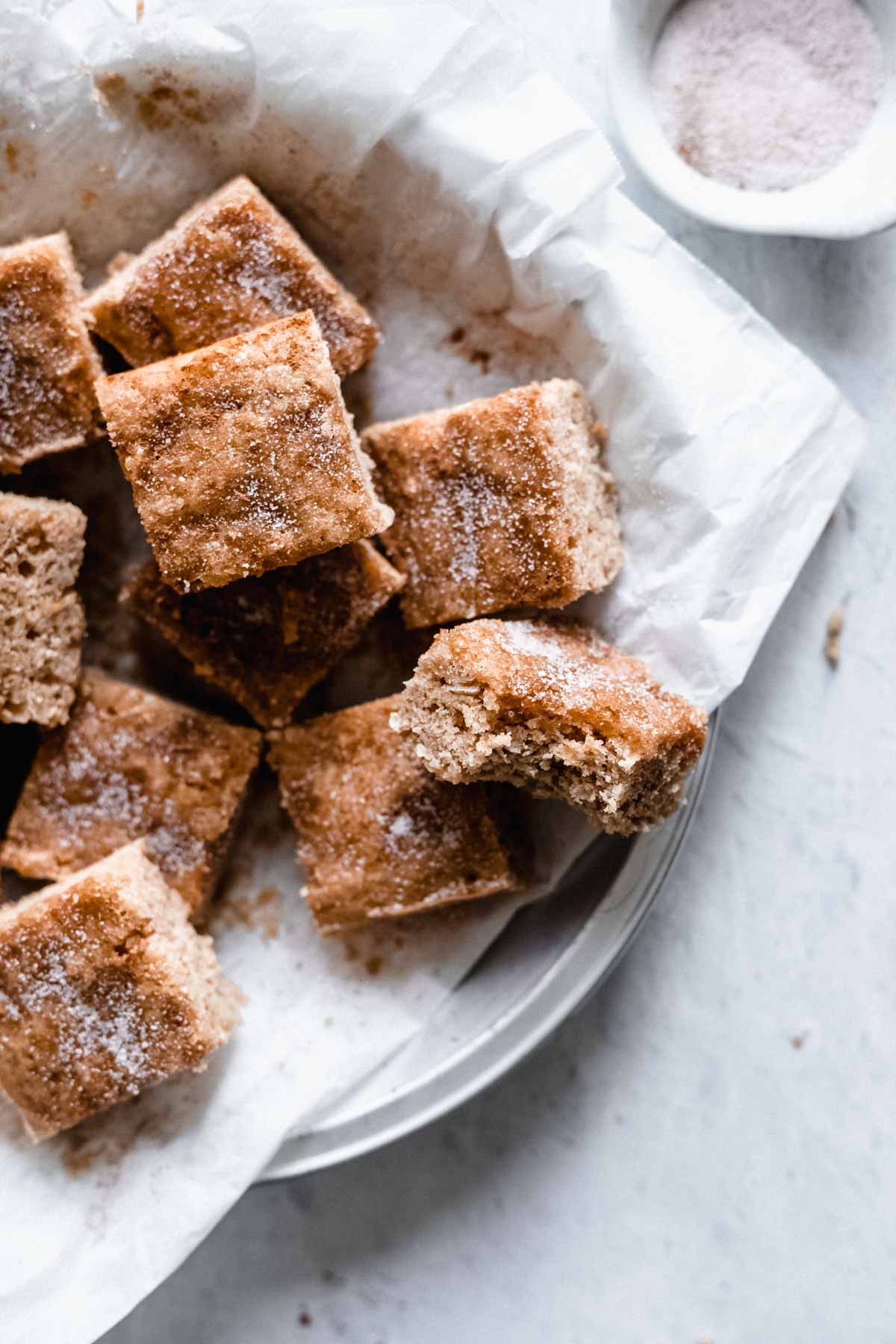 You know you want to be the one who took that bite.
Apple Cider Donut Bars (or Blondies)
These apple cider donut bars are soft, warmly spiced, and full of apple cider flavor! Reduced apple cider in the dough makes all the difference. Top with a sprinkle of cinnamon sugar for extra crunch on these apple cider blondies.
Ingredients
1

cup (240g)

apple cider

½

cup (113g)

unsalted butter

½

cup (100g)

brown sugar

1

large egg

1

teaspoon

vanilla extract

1

teaspoon

ground cinnamon

¼

teaspoon

ground nutmeg

Pinch

ground cloves

½

teaspoon

baking powder

½

teaspoon

salt

½

cup (50g)

rolled oats

1

cup (125g)

all-purpose flour

1

Tablespoon (14g)

unsalted butter, melted

(for brushing over top)

2

Tablespoons (22g)

granulated or turbinado sugar

(for sprinkling over top)
Instructions
Reduce the Apple Cider:
In a small saucepan, heat the apple cider over medium heat, stirring occasionally, until it comes to a low boil.  Continue to simmer, stirring every minute or two, until it is reduced to 1/2 cup, around 10 minutes. You can also do this in the microwave using a 2-cup Pyrex measuring cup, so it's easy to see when the cider has reduced to 1/2 cup. Make sure to cover it! This will take about 8-9 minutes in the microwave.

While the cider is reducing, cut the butter into 1/2 inch cubes. When cider has reduced to 1/2 cup, add the butter and stir until butter is melted. If using the microwave, you may need to put it back in for 30 seconds to help the butter along. Allow the mixture to cool for a couple of minutes.
Make the Apple Cider Donut Bars:
Preheat your oven to 350 degrees F. Grease an 8×8 inch pan or line with parchment paper, and set aside.

In a large bowl, combine the apple cider/butter mixture and brown sugar, and whisk to combine. Add the egg and whisk until mixture thickens and becomes smooth.

Add vanilla, cinnamon, nutmeg, cloves, baking powder, and salt, and whisk until combined.

Add the oats and flour. Stir gently until a batter forms and there are no pockets of flour. Do not over mix!

Spread batter into the prepared pan. Bake for 25 minutes, or until a toothpick inserted in the center comes out clean and the edges pull away from the sides of the pan.

Brush melted butter over the baked bars, and sprinkle evenly with the granulated sugar. You can mix a little more cinnamon in with the sugar if you want! I didn't think it was necessary as the bars are quite spiced already, but it's individual preference.

Let cool completely in the pan before removing and cutting evenly into 16 bars. Enjoy!
Notes
Storage: Bars keep, covered at room temperature, for up to 5 days. 
To freeze, wrap the cooled bars in plastic wrap and store in a freezer bag up to 3 months.  Thaw at room temperature for an hour or in the microwave for 30 seconds before serving.
To make gluten-free, substitute an equal amount of an all-purpose GF mix with xanthan gum for the all-purpose flour, and make sure your rolled oats are certified gluten-free.
Like this recipe? Please rate it and leave a comment or tag me on Instagram @katiebirdbakes, and sign up for my email list to receive my recipes straight to your inbox every time I post!