Here we are, the last day of the year.  I feel like a cliché when I say this, but: where did 2017 go??  I guess this is a sign that I'm getting old.
I feel like this year went by in the blink of an eye, but in reality, a whole lot of things happened.  I went from recovering attorney back to full-time attorney, finally launched this here blog, went through more flour and butter than seems appropriate, and TRAVELED.  Boy did we travel this year.  Here's the list, chronologically: Portland, OR; Big Island, Hawaii; Nashville/Chattanooga, TN; South Bend, IN (x at least 10, Go Irish); Rockford, IL; Boston, MA; Saugatuck, MI; Sarnia, Ontario; Puglia, Italy; Dallas, TX; New York/Tarrytown, NY; West Chester, PA (hometown!).  Whew.  We flew so much that we now have Companion Pass on Southwest, so I have a feeling 2018 will be just as busy.
In between all that traveling and working, I spent a whole lot of time in the kitchen.  I've found that I love tweaking recipes and making them my own.  Anyone who tries to tell you they created a recipe from scratch is lying — there are certain laws of physics and chemistry, at least in baking, that you can't break (or you can, but it won't go well).  We're all just modifying, to a certain degree.  But that's where the uniqueness and individuality can shine, and I hope that's what's starting to show in my recipes.
I certainly had some fails…like an attempt at a carrot banana cake that looked ok but tasted like a mushy mess, banana oat muffins that were more rock than muffin, and a guinness chocolate cake that was undeniably dry (but we ate it anyway).  The list goes on, and will continue to, but a more exciting list is the recipes you all liked the most this year.  A couple were a little surprising to me, actually.  So without further ado, here we go – the top 7 recipes of 2017, in reverse order:
7. Baked Banana Donuts with Dark Chocolate Glaze
I will say, this was one of my favorite recipes this year too.  The donuts are subtly sweet with huge banana flavor, and the dark chocolate glaze sets them off perfectly.  Super easy for a Sunday brunch and healthier than ye olde fried donut.
6.  Banana Oatmeal Breakfast Cookies
Not gonna lie, I still make these at least once or twice a month to have for breakfast during the week.  They are gluten-free, vegan, AND naturally sweetened, but you'd NEVER know it from the flavor and texture.  Plus they're super easy to make if you have ripe bananas and rolled oats lying around.  A winner on all accounts.
5. Brioche Bread Pudding with Salted Caramel Sauce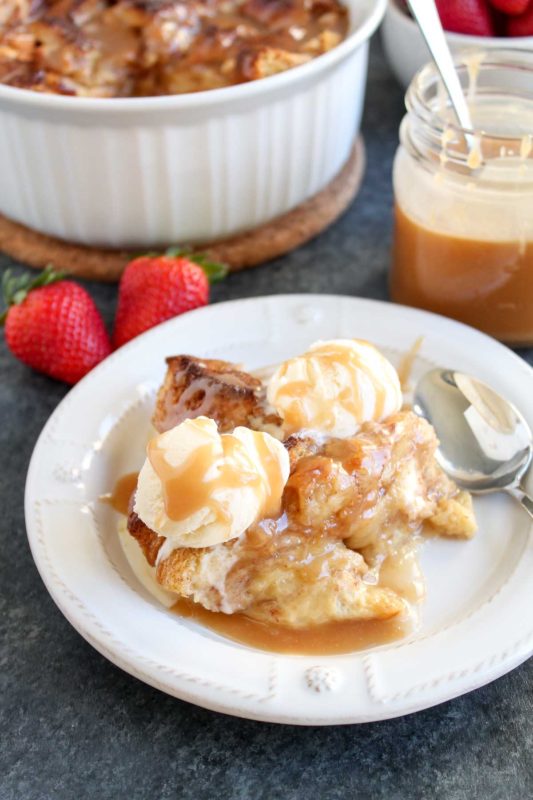 I made this recipe on a whim one day when I had a half-loaf of brioche just sitting around, having never attempted bread pudding before.  It turned out to be one of my favorite creations yet, and yours too.  This recipe blew up on Pinterest and still gets tons of hits every day.  Even my dad, who is not normally a baker, made it and loved it.  You know it must be good.   The homemade caramel sauce really takes it over the top!
What about carrot cake cinnamon rolls could be bad?  Literally nothing.  My favorite cake and my favorite brunch pastry wrapped into one, these rolls have carrots and spices in the batter and are topped with a fantastic cream cheese glaze.  It's great for spring, or really any time of year.  Just do it.
3. Lemon Ricotta & Spinach Pasta
This one really surprised me.  I never expected a simple pasta recipe to be as popular as this one has become, but I'm not mad about it.  And it's not difficult to see why you like it – it takes 20 minutes to make, start to finish, it's (fairly) healthy, and the flavor is huge.  A weeknight win!
2. Lemon Meringue Pie with Graham Cracker Crust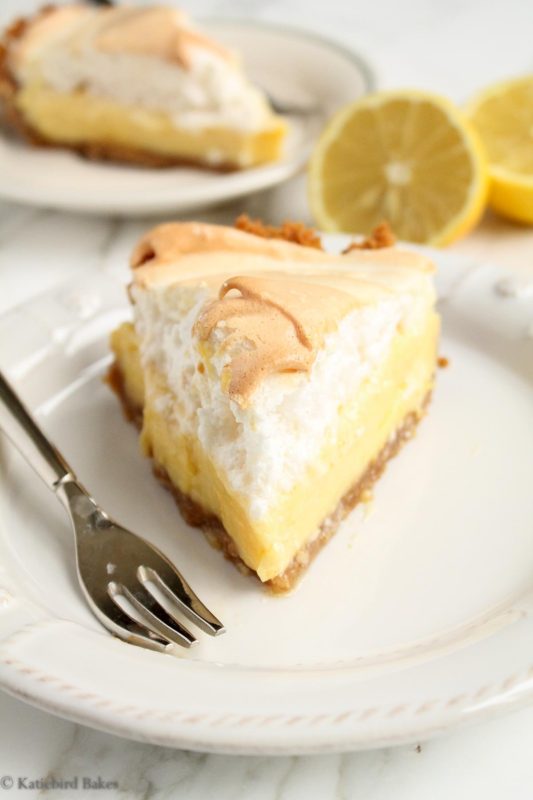 Oh man, you guys.  This lemon meringue pie is a HUGE favorite in my family and with Brian (he requested it as his birthday "cake" this year) and I'm so glad it's a hit with you too!  It's creamy, tart, and sweet all at once, and it's super easy.  The perfect way to brighten up a winter day.
And, drumroll…the number 1 recipe on Katiebird Bakes this year was…
1. Cinnamon Rolls with Cream Cheese Icing
By far, this was the most popular recipe on my site this year.  I can't lie, it's probably my favorite recipe too.  For someone who is still afraid of yeast at times, I sure have a thing for cinnamon rolls.  These guys are soft and sweet with no kneading required.  The ingredients are mixed together in a pan on the stove, and risen there too.  Then you roll, fill, roll again, and bake.  Then top it all with a glorious cream cheese icing.  What's not to like?!  It impresses every time.
So there we have it, the top recipes of 2017!  Were there any I missed?  What do you want to see in 2018?  Tell me tell me!
I hope 2017 has brought joy and happiness to you, and that 2018 will be even better.  Thanks for being here with me – I appreciate you all so much.  Happy New Year!