A leftover half-loaf of brioche can yield the most rich, yet easy bread pudding, taken over the top with homemade salted caramel sauce. (Jump to Recipe) 
You know how on cooking competition shows like Chopped, whenever they do the dessert round, someone invariably makes a bread pudding?  Even if they've been given the most ridiculous ingredient, like gummy worms or pig's feet?  Always, every time, without fail, somebody makes bread pudding with it.  You'll notice next time you watch.
I always wondered (before we got rid of cable; now I have other things to wonder about but seem to spend no less time in front of the TV) why bread pudding was the default choice.  It seemed…a little basic, but also a little finicky, and definitely lacking in the pizzazz one typically associates with such shows.  Usually, the contestant got too busy trying to make a bunch of overly complicated sauces or side accompaniments, and burned their gross gummy worm bread pudding or yanked it out of the oven before it was done.  Poor choice, I always thought to myself.
This was before I'd ever made bread pudding.  Now I have, and let's just say, if you ever catch me on an episode of Chopped (not likely), I'll be that weirdo making bread pudding with gummy worms.  Why?  Because as it turns out, bread pudding is the most easily adaptable, the most forgiving, the most comforting and decadent thing you can make in 30ish minutes with bread, eggs, and milk.  It's like French toast on steroids, because you can do crazy things like douse it in salted caramel sauce and ice cream and call it dessert.  Or breakfast.  I don't judge.
This all started because my mother in law had us over for brunch, and she made a lovely French toast with brioche bread.  The best French toast always starts with brioche, I think.  There were only a few of us, though, so she didn't use the whole loaf, and somehow the rest of that loaf found its way home with us.  Oh, darn.
All week long at work, I was wondering to myself what I was going to do with this half-loaf of brioche.  I thought about more French toast, but eh – I'd just had it.  I thought about an egg casserole or croutons (brioche croutons, I mean…what can be bad), but it turned out that by the end of that long week, all I wanted was a comforting, carby hug.  Then it hit me, as if I'd just pulled gummy worms out of the final Chopped basket…bread pudding.  I'd only had it at restaurants before, but since when has that stopped me?
I did a little research and found a solid, simple recipe from the New York Times, from whom I've rarely had a culinary venture go awry.  But, because I can never leave well enough alone, I had to modify it because I could not get the idea of warmly spiced, sweet, crisp bread pudding combined with salty caramel out of my head.  Turns out there was good reason for it – the result was nothing short of spectacular.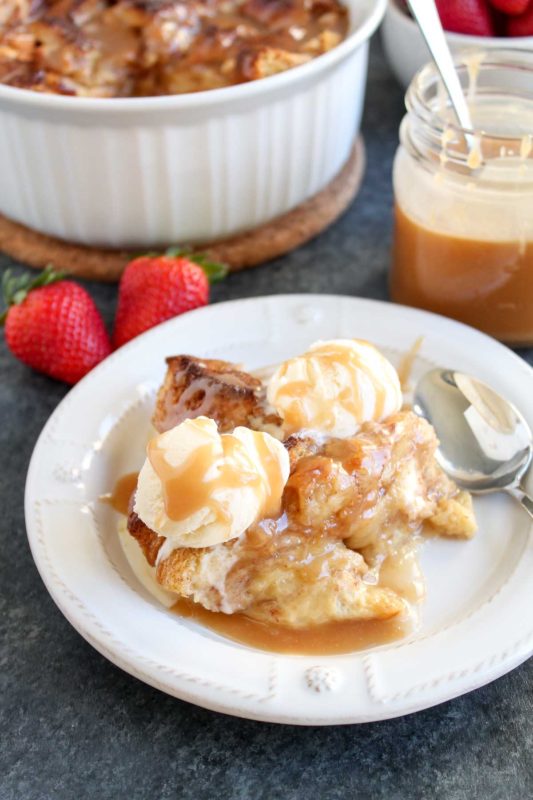 This is so simple to put together that I now understand why Chopped contestants can do it without a recipe.  2 cups milk, 2 eggs, 2 tbsp butter, a little vanilla and spices, and half a loaf of bread.  Doesn't get easier than that, and there are very few recipes where you reap so much reward from so little effort.  The top part of the bread pudding gets a beautiful, crisply browned lid as it rises in the oven, while the interior stays soft and doughy.  When you cover it in homemade salted caramel sauce and vanilla ice cream, the combination of flavors and textures is quite literally heaven on earth.
If you were intimidated when I said "homemade salted caramel sauce" just then, don't be.  It's not nearly as scary as it sounds, and I would urge you not to skip it.  It makes more than enough for this recipe, meaning you'll have extra to put on ice cream, cookies, your morning oatmeal, your plain old spoon…
Personally I wanted to drink it.  But, for propriety's sake, I refrained.
This was gone from our kitchen within 2 days, much to our regret.  I hope you'll subject yourself to the same temptation, without or without the gummy worms and professional judges.
Brioche Bread Pudding with Salted Caramel Sauce
A leftover half-loaf of brioche can yield the most rich, yet easy bread pudding, taken over the top with homemade salted caramel sauce (bourbon optional)!

Ingredients
For the Bread Pudding:
1/2

loaf

day-old brioche bread (about 6 slices)

2

cups

milk

(I used whole)

2

tablespoons

butter

1

teaspoon

vanilla extract

1

teaspoon

cinnamon

Pinch

nutmeg

Pinch

salt

1/3

cup

granulated sugar

2

large

eggs
For the Salted Caramel Sauce:
1

cup

granulated sugar

1/4

cup

water

1/2

cup

heavy cream

1

tablespoon

butter

1/2

teaspoon

salt

1

tablespoon

bourbon (optional, but delicious)
Instructions
For the Bread Pudding:
Preheat the oven to 350 degrees F. Butter a medium casserole dish (4-6 cups). Chop the bread into 2-inch cubes and place in the dish.

Meanwhile, in a medium saucepan on the stove, or in a microwave-safe bowl in the microwave, heat the milk, butter, vanilla, cinnamon, nutmeg, salt, and sugar until the butter melts. This should take 2-3 minutes in the microwave - stop every minute and check. Don't let the mixture boil. Whisk the mixture once the butter is melted to make sure it's all incorporated. Let cool for about 5 minutes.

Whisk the eggs together in a small bowl. Pour into the cooled milk mixture and whisk until the ingredients are thoroughly combined.

Pour the milk/egg mixture over the cubed bread in the casserole dish. Bake for 35-45 minutes, until the top is golden brown but the center is still a bit wobbly. Drizzle with salted caramel sauce; serve warm with vanilla ice cream and extra sauce!

Store any leftover bread pudding in the fridge for up to 2 days. Reheat in the microwave - it'll be just as delicious.
For the Salted Caramel Sauce:
In a medium saucepan (I recommend a stainless steel saucepan so you can see what's happening) stir together the sugar and water, then heat over medium heat. DO NOT STIR. You can swirl it a little from time to time, but don't stir or whisk it. The mixture will come to a boil and be very bubbly.

Continue to cook the sugar until it has turned a dark amber hue, about 8-10 minutes. While it's cooking, measure out your heavy cream and butter, salt, and bourbon (if using), and grab a whisk. Things need to happen fast once you reach the right color or else the sugar will burn.

As soon as a dark amber hue is reached, remove pan from the heat and whisk in the heavy cream - whisk vigorously. It will crackle loudly and seem like it's curdling but keep whisking!! After 10-15 seconds or so of whisking, a glorious caramel sauce will emerge in your pan.

Whisk in the butter, salt, and bourbon. Pat yourself on the back and serve that sauce with the bread pudding and ice cream.

Store any leftover sauce in a sealed jar or container in the fridge for up to 2 weeks - slather on ice cream, cookies, cake, oatmeal...or just your spoon.
Like this recipe?  Please rate it and leave a comment or tag me on Instagram @katiebirdbakes, and sign up for my email list to receive my recipes straight to your inbox every time I post!