These soft molasses cookies are assertively spiced with soft middles and a crispy exterior. There's no chilling required and the dough contains more molasses than most recipes, leading to a rich and chewy cookie! Cardamom is the secret ingredient that really amps the flavor in these super soft molasses cookies.
---
This recipe was originally published on December 20, 2017. As of December 9, 2021 it has been updated to include new photos, baking tips, and a recipe video! No surprise here, I'm still obsessed with this recipe and I hope you love it too.
---
Is there anything better than a deeply spiced, warming, gooey-centered and crispy-edged soft molasses cookie? With gingerbread flavors reminiscent of my dark and intense gingerbread cake, and those beautiful sparkles from rolling them in sugar, I honestly can't think of a Christmas cookie I like better.
I realize that's not a common opinion.
I suppose it's understandable that the humble molasses cookie sometimes gets pushed to the side when you have peanut butter blossoms and colorful sugar cookies and all manner of pepperminty chocolate things competing for attention.  I get it.
But not today. Today, these super soft crackled molasses cookies shine on their own stage.
The best soft molasses cookies
Today we are going to celebrate this unassuming, crackly brown cookie for all the glory that it is: a warmly spiced, soft-centered, crispy-edged, sparkly hug. That's right, a cookie hug.
I don't know when I fell in love with molasses cookies, but I'm pretty sure this love will last a lifetime. They're just so comforting and friendly, yet a little spicy. There's a lot of subtlety to them, a lot of intrigue. I'm a big fan of intrigue in my baked goods.
So what makes THESE soft molasses cookies the best ones?
Complex flavor from cinnamon, ginger, cloves, AND cardamom (not many recipes use this and I think it makes a difference!)
More molasses than most recipes call for so you get EXTRA flavor and richness
NO CHILL TIME. Let me repeat, you do not have to chill this dough!
Recipe yields 24 cookies for an adequate, yet not overwhelming amount of cookies.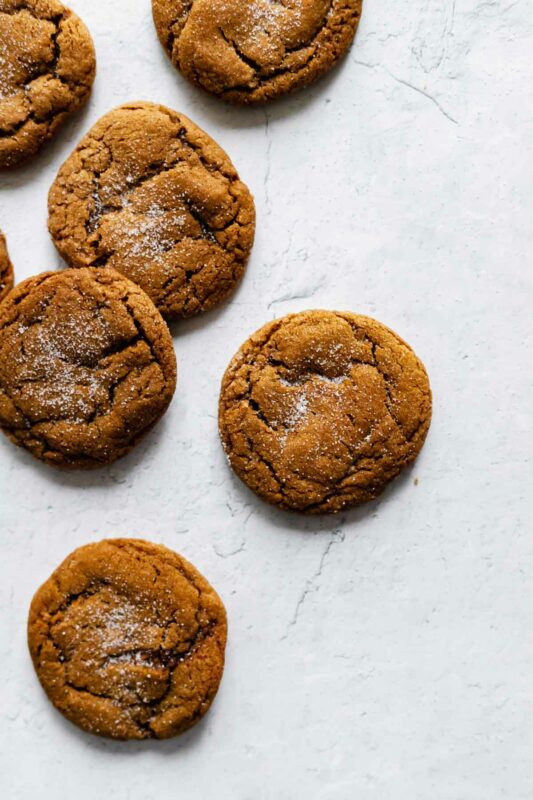 Listen, the holiday season can be tough.  It's always been my favorite time of year, but sometimes it can be a little much – a little too much sparkle, a little too much sugar, and in normal years, a little too much socializing and a little too much travel. 
Sometimes all I want to do in the middle of this holiday marathon is sit under a blanket with my flannel PJ pants on, a plate of soft gingerbread molasses cookies in front of me, a large coffee in my lap, and binge watch something so I don't have to think or interact. Hopefully I'm not alone. We all do a lot! We deserve some me time.
And we deserve these cookies. The good thing is, in the world of cookies, there are difficult ones and easier ones, and these are of the "easier ones" type. No softening butter or separating eggs or refrigerating time necessary.
Soft Molasses Cookies: Recipe Steps
I do recommend using a mixer for this dough for best results, but this is still a simple recipe. All we do is :
Whisk the dry ingredients together in a bowl;
Beat the wet ingredients together using your mixer until they are the color and texture of creamy peanut butter (this takes 2-3 minutes on high speed!); and
Combine them. 
You could make the cookies without a mixer if you prefer, since we're using melted butter in the dough. You'd just whisk the wet ingredients together QUITE vigorously, then add in the dry and combine with a rubber spatula until a dough forms. If the dough seems very soft and sticky, refrigerate it for an hour until it is firm enough to scoop.
Tips for Baking Molasses Cookies
For best texture in the final baked cookies, I like to use a mixer to incorporate the most air into the dough, resulting in crisp edges and soft interiors. It's important to beat the butter, molasses, brown sugar and egg together until the mixture becomes a lighter color, reminiscent in both color and texture of smooth peanut butter.
Add the whisked dry ingredients slowly with the mixer on its lowest possible speed so your flour doesn't fly all over the kitchen. Stop once you have a cohesive dough!
If the dough seems extremely sticky, you can refrigerate it for an hour and it should be scoopable. I usually find my dough to be just fine for scooping and rolling without the need to refrigerate, but kitchens and ingredients vary!
Use a cookie scoop for even, round cookies (I use this 1.5 tablespoon #40 cookie scoop and love it), roll them into balls, coat them in sugar, and then bake for 10 minutes or less. 
Emerge with crackly, spicy, softest-ever molasses cookies, highly reminiscent of gingerbread. Congratulate self.
The other great thing about these cookies? They stay fresh and soft for a super long time. Like 5 days long. Just keep them well wrapped (I keep them in a small tupperware container) so they aren't exposed to a lot of air, and these little bundles of joy will stay soft for-EVER.
Can I freeze the molasses cookies or the cookie dough?
Yes to both! You can freeze the baked molasses cookies, well wrapped in plastic wrap in a freezer bag, and then set them out on the counter to defrost whenever you want them! Or, freeze the dough after you scoop and it form into balls, so you can have warm cookies on demand. Just bake from frozen and add 1-2 minutes to the bake time.
You can see in the photo below the difference between a cookie baked without freezing the dough, and a cookie baked from frozen. Both are soft and delicious, but the ones baked from frozen are slightly thicker in the center. I will never turn down a good gingerbread cookie so I like them both 🙂
I'm thinking these would be the perfect homemade Christmas cookie gifts in little bags or jars, if you're into that sort of thing. I know I wouldn't mind receiving one.
I wish you the most wonderful, stress-free, worry-free, cookie-filled Christmas and holiday season!
More Holiday Recipes
Soft Molasses Cookies
These soft molasses cookies are everything Christmas cookies should be: warm spices, soft middles, and a crispy exterior.
Ingredients
2

cups (250g)

all-purpose flour

2

teaspoons

baking soda

1

teaspoon

ground cinnamon

1

teaspoon

ground ginger

½

teaspoon

ground cloves

¼

teaspoon

salt

Pinch

cardamom

(optional)

½

cup (113g)

unsalted butter

melted and cooled

⅓

cup (67g)

granulated sugar

¼

cup (50g)

brown sugar

packed

1

large

egg

⅓

cup (80ml)

molasses

¼

cup (50g)

Coarse or granulated sugar, for rolling cookies

(I use turbinado sugar)
Instructions
Preheat your oven to 375 degrees F. In a medium bowl, whisk together flour, baking soda, salt, cinnamon, ginger, cloves, and cardamom. Set aside.

In a large bowl, beat together melted butter, granulated sugar, brown sugar, egg, and molasses with a hand mixer or stand mixer, on medium to medium-high speed, until fluffy and well combined — about 2 minutes. It should turn a lighter brown and be the color and texture of smooth peanut butter.

While mixer is running on its lowest speed, slowly add flour mixture a bit at a time to the molasses mixture. Don't dump the whole thing in at once or you'll have flour everywhere. Stop when the mixture is just combined – don't overbeat.

Put coarse or granulated sugar in a bowl or on a plate.  Use a tablespoon cookie scoop or spoon to scoop out dough, then roll into a ball between your hands.  Roll the ball in the sugar until it is coated, then place on a cookie sheet lined with parchment paper.  Repeat with remaining dough, keeping balls about 2 inches apart on the cookie sheet.

Bake for 8-10 minutes, until cookies are puffed and spread, and cracks have developed on the tops. Cool on cookie sheet for 5 minutes, then remove to a rack to cool completely.
Notes
Adapted from the recipe on the back of the Grandma's Molasses container.
Make ahead: Cookies will keep and stay soft, well wrapped at room temperature, for up to 5 days!  You can also freeze the baked cookies, well-wrapped in plastic wrap and stored in a freezer bag, for up to three months.  Simply thaw on the counter for 1-2 hours to serve.
Freezing the dough: you can freeze dough balls on a plate or flat surface for 30 minutes, then transfer to a freezer bag and keep up to 3 months in the freezer.  Bake directly from frozen, adding 1-2 minutes to the baking time.
Like this recipe for soft molasses cookies? Sign up for my email list to receive my recipes straight to your inbox every time I post!
Gah. Those crinkle crackles. They get me every time.