This recipe for easy small batch peanut butter blossoms produces soft, chewy, and very peanut buttery cookies, made in one bowl with no mixer and no chill time; they're finished with a crackled, sugary top and a chocolate kiss!
This post is sponsored by Domino® Sugar and all thoughts and opinions are my own. Thank you for supporting the brands that make Katiebird Bakes possible!
Today we're discussing one of my favorite holiday cookies: peanut butter blossoms! I can't believe it took me this long to post a recipe for these fabulous and easy cookies, since I've been making them every year for at least a decade. But if ever there were a year that we needed comforting classics, 2020 is it! So let's do this.
I can't think of a cookie more synonymous with the holiday season than peanut butter blossoms. Just the sight of them with their sparkly, crackly edges and cute chocolate kiss hats makes me feel like it's Christmas time.
Peanut butter blossom cookies also happen to be my husband Brian's favorite Christmas cookies, so you better believe he's been agitating for me to put this recipe on the blog. I make them for him every year (since at least 2010, probably earlier). That means I've had some practice in refining the recipe to get it just the way I like it.
After much experimentation, I have some edits to make to the classic peanut butter blossom recipe, which we'll discuss in just a minute. To begin, however, we should review the basics for the uninitiated to the bliss that is these small batch peanut butter blossom cookies.
How to make peanut butter blossoms
Make a classic peanut butter cookie dough. Here, we're actually going to use the same dough recipe as my easiest peanut butter cookies. Could you just use the recipe on the back of the chocolate kiss package? Yes, but this is better and I'll tell you why in just a minute. Hint: it involves using Domino® Light Brown Sugar for flavor and moisture. No sad, dry cookies here.
Roll the dough into 1-inch balls. I like to use a 1.5 teaspoon-size, #100 cookie scoop for this, but you can also use two teaspoons to scoop and then spoon the dough onto the cookie sheet if you prefer.
Roll the balls in granulated sugar for that crackly sparkle we all love – I used Domino® Granulated Pure Cane Sugar here, which provides the perfect amount of sparkle with a fine texture that's pleasant to bite into.
Bake the cookies for 8 minutes – yes, only 8 minutes. They will puff up and become pale with a few cracks on the top. You may not think they're done but they are – they're small!
Immediately after removing cookies from the oven, place an unwrapped chocolate kiss candy in the center of each cookie. Gently push down so the cookie develops defined cracks and the chocolate kiss is anchored in the center.
Refrigerate the cookies so the chocolate kiss doesn't melt (unless you like them that way!).
Try not to eat them all in one sitting.
Ok, now that we have the basics down, it's time to discuss why this peanut butter blossom cookie recipe is better than the rest.
Recipe Tips
Maybe you, too, have made your fair share of peanut butter blossoms in the past. Let me ask you, have you ever been just a bit disappointed when, after going to all the work of making the dough, rolling it out, dutifully unwrapping all those kisses, and timing the press just right, the cookies are…a little (or a lot) too sweet? Not peanut buttery enough? DRY? Yes, I've been there too, for all of the above.
Here's how we fix it.
All brown sugar in the cookie dough. Most recipes call for a combination of granulated and brown sugar in the dough, but we're using all Domino® Light Brown Sugar here. Their brown sugar provides complex molasses flavor, moisture, and makes for those dense peanut butter cookies we all want. I love to use Domino® Light Brown Sugar in baked goods because of its superior moisture, texture, and caramel notes. High quality, consistent sugar is important and they make the best! No sad, dry, flavorless cookies here. And, we're using just enough brown sugar to provide sweetness but not overwhelm the peanut butter flavor.
Higher peanut butter to flour ratio. Most recipes use only 1/2 cup of peanut butter to nearly 2 cups of flour. No wonder they don't taste peanut buttery. I've altered the ratios so that we use 1/2 cup of peanut butter to only 1 1/4 cups of flour. It makes a difference!
Melted butter, no mixer required and no chilling time. I spent a long time developing my recipe for the easiest peanut butter cookies such that we don't need to spend an unnecessary amount of time or dishes on them! The same holds true for this version. Just mix it with a fork in one bowl!
Make your cookie dough balls smaller, 1 inch balls. Have you ever seen (or made) a peanut butter blossom cookie that looks more like a chocolate kiss island on a giant peanut butter cookie? Ugh. No. In order to have the correct ratio of cookie to kiss, the cookie dough balls need to be SMALL because they will puff and spread in the oven. If you use a 1.5 teaspoon cookie scoop, it's the perfect size – or just use the knuckle of your forefinger as an estimate for one inch and make your cookie dough balls that size.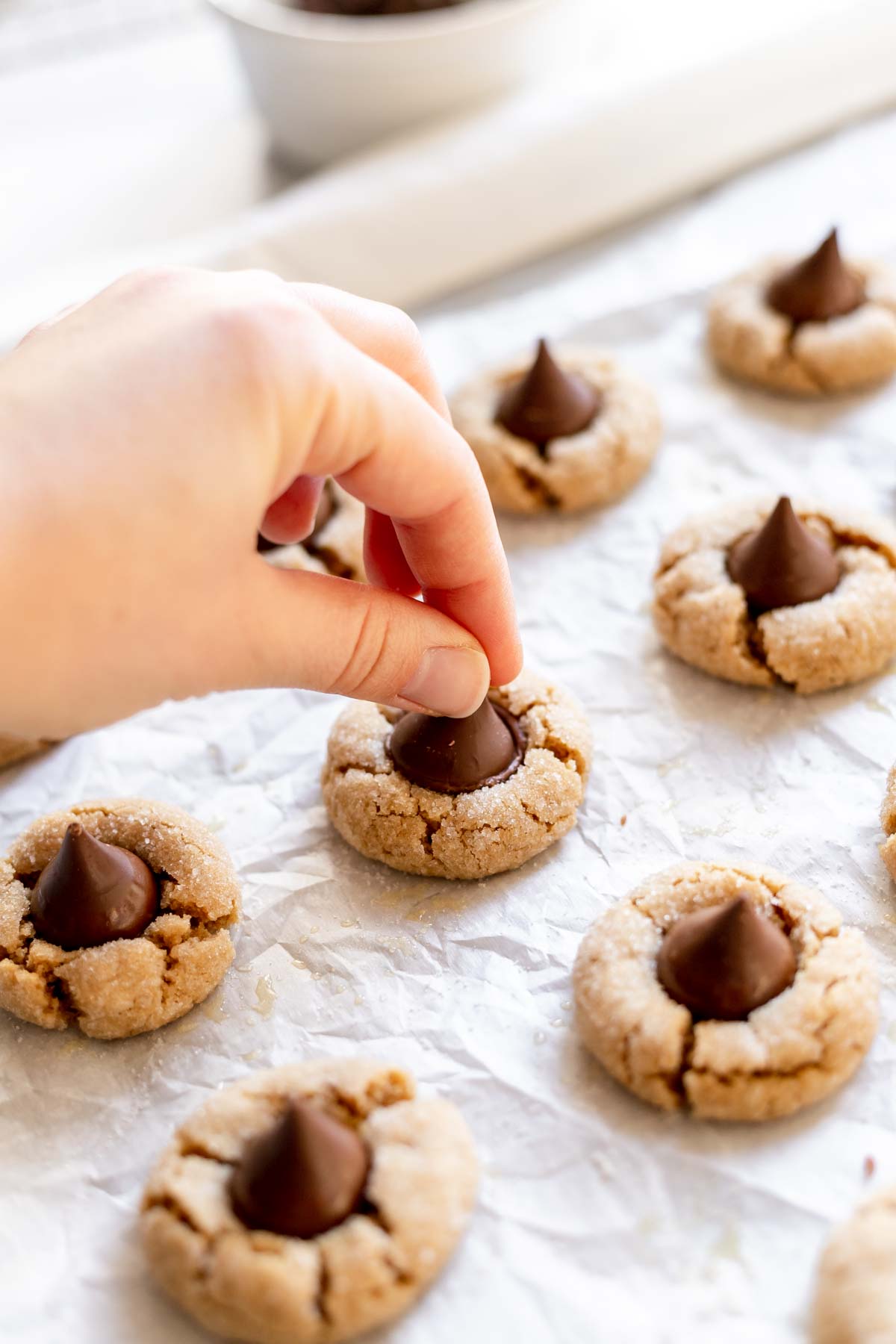 Press the kisses into the cookies immediately after they come out of the oven. Yes, this means you need to unwrap them all ahead of time. I do it while the cookies are baking – which is only 8 minutes so you have to work fast! You probably think further ahead than I do, so you'll be fine. Anyway, if you wait longer than a minute or so to press the kisses in, the cookies have already set and you won't get the beautiful crackles that are a hallmark of peanut butter blossoms.
Refrigerate the baked cookies for 30 minutes so the chocolate kiss doesn't melt. If you've ever tried to transport warm peanut butter blossom cookies and had a melted chocolate mess on your hands, you know what I'm talking about. After the initial chill, the cookies can be stored at room temperature.
Ok, enough talking, it's time to bake. I hope you enjoy this easy version of a classic holiday cookie recipe. Let me know what you think if you make them – please leave a rating and a comment, and tag me on Instagram @katiebirdbakes!
More Holiday Cookie Recipes
Peanut Butter Blossoms
This recipe for easy peanut butter blossoms produces soft, chewy, and very peanut buttery cookies, made in one bowl with no mixer and no chill time; they're finished with a crackled, sugary top and a chocolate kiss!
Ingredients
6

Tablespoons (85g)

unsalted butter

½

cup (130g)

creamy peanut butter

⅔

cup (132g)

light brown sugar

(packed)

1

large egg

1

teaspoon

pure vanilla extract

½

teaspoon

baking soda

½

teaspoon

salt

1¼

cup (156g)

all-purpose flour

½

cup (100g)

granulated sugar

(for rolling cookie dough)

40

chocolate kiss candies
Instructions
Preheat the oven to 350 degrees. Line 2-3 baking sheets with parchment paper and set aside.

In a large microwave-safe bowl, melt the butter and peanut butter together (this takes about 45 seconds to 1 minute in my microwave). Or, melt the butter separately and pour over the peanut butter in a large bowl. Stir until there is one homogenous melted butter-peanut butter mixture, then whisk in the brown sugar.

Whisk in egg and vanilla until mixture is well-combined. Add the salt and baking soda, and whisk until fully incorporated.

Add the flour and stir with a fork or spatula until a fairly stiff dough is formed. You may need to put in some elbow grease with a spatula or your hands to get it to come together, but it will.

Scoop dough using a 1.5 teaspoon cookie scoop (#100 size) or two small spoons, then roll it between your palms to create a smooth, 1-inch dough ball. Place the granulated sugar in a bowl, then roll the cookie dough balls in the sugar until completely coated.

Space the cookie dough balls 2 inches apart on the cookie sheets. Bake, one sheet at a time on a center rack in the oven, for 8 minutes. Cookies will puff and be pale, and a few cracks may appear on the tops.

While cookies are baking, unwrap all of the chocolate kiss candies. When cookies come out of the oven, immediately press a chocolate kiss into the center of each cookie, so that the edges become crackled and the kiss is settled in the middle. Do not wait longer than a minute after the cookies come out of the oven to do this, or the cookies will already be too set and you won't get the same effect!
Notes
Peanut Butter: conventional or natural peanut butter both work. I tried it both ways, and slightly prefer the texture of the cookies when conventional peanut butter is used. Natural peanut butter tends to produce slightly grainier cookies, but either result is delicious so pick your favorite. Note on Measuring Flour: for best results, please make sure you either weigh your flour using the gram measurements OR if you don't have a kitchen scale, use the "spoon and level" method for measuring flour, rather than using your measuring cup to scoop flour directly from the bag (you'll have too much flour if you scoop). Make Ahead: Cookies will keep (and stay soft!), stacked in an airtight container at room temperature, for up to 5 days. You can tightly wrap and freeze baked cookies for up to 3 months. To freeze cookie dough for later, scoop, roll, and then freeze the cookie dough on a plate or baking sheet for 30 minutes, then keep in a freezer bag and bake cookies directly from frozen, adding 1-2 minutes to the baking time.
Like this easy peanut butter blossoms recipe? Please rate it and leave a comment, tag me on Instagram @katiebirdbakes, and sign up for my email list to receive my recipes straight to your inbox every time I post!