Dark and spicy gingerbread cake made with coffee to enhance the molasses flavor. This single layer gingerbread cake with cream cheese frosting is an easy way to celebrate the holiday season!
This post is sponsored by Domino® Golden Sugar and all thoughts and opinions are my own. Thank you for supporting the brands that make Katiebird Bakes possible!
There is just something about gingerbread, isn't there? That spicy, dark, gingery molasses flavor instantly transports you to the holidays. Even just the smell is enough to make me excited for twinkly lights and hot cocoa and allllll the Christmas movies.
I know everyone gets excited about sugar cookies and snickerdoodles and peanut butter blossoms at this time of year – and I don't blame them – but give me a well-spiced molasses cookie or a soft, tight-crumbed Christmas gingerbread cake and I will instantly be the most excited person you know.
The complex flavor of molasses is hard to replicate or even explain unless you've had it. Deep, almost caramel, thick liquid gold, if that gold had been cooked down to its most intense version.
I knew molasses was the perfect complement to my continuing partnership with Domino® Sugar featuring their new, less processed Golden Sugar, which you can buy on Amazon! It's a cup-for-cup replacement for any recipe in which you'd use white sugar, and because it's less processed it retains a hint of molasses resulting in a beautiful golden color. What better way to use it than to pair it with actual molasses??
What makes a great gingerbread cake?
In my mind, an ideal gingerbread cake has to be dark and intense in color, and just as hefty in flavor. It should be rich, indulgent, and full of depth. The ginger flavor should be noticeable, but also rounded out by the cinnamon, nutmeg and cloves. It should be sweet, but not too sweet.
And of course, it should be topped with cream cheese frosting. Yes. Gingerbread cake with cream cheese frosting is a no-brainer – the tang of the cream cheese against the rich gingerbread cake is just heaven.
Here's the problem though: many recipes that I've seen in my research and experimented with myself come out too light. Too light in color, too light in flavor, and too light in the crumb.
More of a snack cake, than an "omg-this-is-a-transcendent-experience" cake.
A snack cake is fine, and a light crumb is good for those cake for breakfast type situations or for a more virtuous-feeling dessert. But that's not what we want with this gingerbread cake.
At Christmas and the holidays, it's about decadence, and this cake does it. How?
1. Coffee. After much time contemplating it and a great deal of recipe research, I discovered that most classic gingerbread cake recipes call for at least a cup of very hot, if not boiling, water to be added to the batter before it goes in the oven. Supposedly, this trick loosens the tight gluten strands and creates a lighter, softer cake.
But my thought was that the water probably also thins out the flavor. This isn't what we want in a dense and rich gingerbread.
I've made a gingerbread bundt cake before (don't judge the photos; it was early days) that called for stout beer in the batter, which definitely added more flavor but required more babysitting in the form of cooking the beer on the stove first with the molasses. I wondered if I could achieve the same thing by using hot coffee, which would add color, depth, and flavor without additional time or complexity.
The answer, as it turns out, was a resounding yes. Don't worry, the finished cake doesn't taste like coffee. It just rounds out the flavor!
2. My tried and true melted butter trick. I've now used this trick in many of my recipes to both save time and create a dense texture when it's needed (see, e.g., the easiest peanut butter cookies).
The theory is no different here. If we don't want a light and fluffy cake, we're not going to add unnecessary aeration by creaming butter and sugar. In fact, the cake portion of this recipe doesn't require a mixer at all. My favorite way to bake!
3. Rich cream cheese frosting. This is essential to offset the intensity of the cake. I use a 1oz:1tbsp cold cream cheese to room temp butter ratio, which I think produces the best flavor and texture. I was even able to use the Domino® Golden Sugar in the frosting by blending it on high speed in my blender until it turned into powdered sugar. This is definitely optional – you can use regular powdered sugar – but I liked the complementary flavor it added against the gingerbread cake.
To turn the Golden Sugar (or any granulated sugar) into powdered sugar, simply blend half the volume of powdered sugar you'll ultimately want (i.e., if you want 1 cup powdered sugar, blend 1/2 cup granulated sugar) in a blender or food processor on high speed, until it is a fine, fluffy powder. You may have to stir it around and blend a couple times to make sure it all gets powdery. That's it! Use immediately so it doesn't get clumpy.
4. Quick candied walnuts on top! This was Brian's idea the day I was photographing this cake. I was madly frosting the cake and racing against the last bit of winter daylight (aka, it was 3pm) when he suggested it, so he helped me make them. I think it was a stroke of brilliance.
The candied walnuts cook up VERY quickly (10 minutes on the stove!) and they add crunch and textural contrast to the cake. I love the sparkle of them too. You can totally use pecans if you'd prefer, or omit entirely if it's not your thing. You guessed it, we used Golden Sugar for these too.
Gingerbread Cake with Cream Cheese Frosting: The Flavor Just Gets Better with Time
Most of the research I've done about gingerbread suggests that it keeps better than most cakes because it is kept moist by the molasses. I definitely found this to be true.
Because this gingerbread cake has cream cheese frosting on it, you should keep it well-wrapped in the refrigerator – and I found that the cake's flavor, once it was warmed to room temperature or just a bit warmer in the microwave – just got better with each passing day.
No joke, my parents and I tried it nearly a week after it had been baked, and it was not only still moist, but had the best flavor of all the days I tried it. The ginger and cloves really come forward as the cake sits.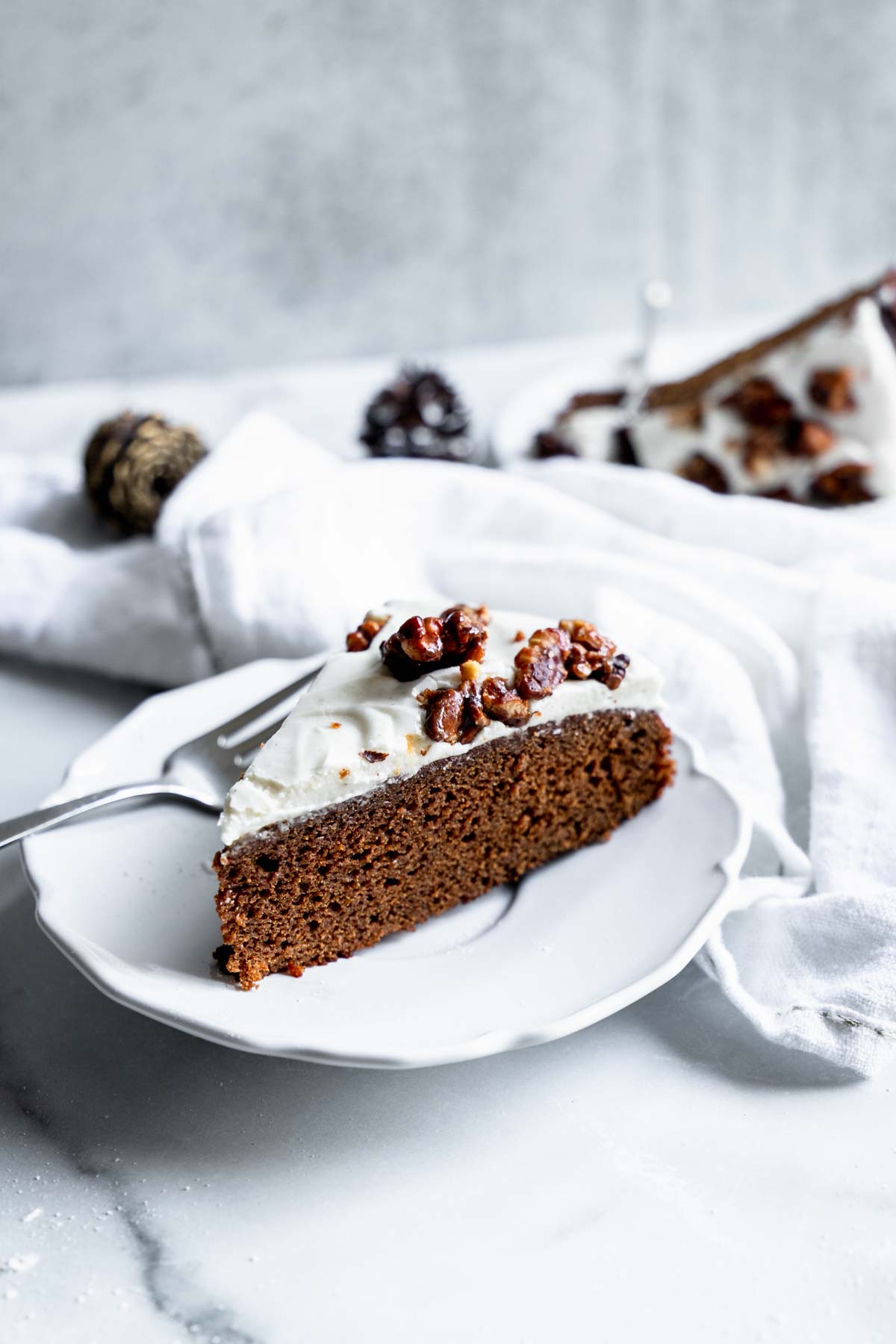 The point? This is a great cake to make ahead if you're having guests over. One less thing to worry about on the big day! You can keep the cake covered at room temperature until you frost it.
TO RECAP: this single layer gingerbread cake with cream cheese frosting is dark and spicy; sweet and rich; filled with holiday flavors; will make your whole house smell amazing; and keeps for at least a week. Anything else you need to know?
Single Layer Gingerbread Cake with Cream Cheese Frosting
Dark and spicy gingerbread cake made with coffee to enhance the molasses flavor. This single layer gingerbread cake with cream cheese frosting is an easy way to celebrate the holiday season!
Servings:
10
(1 9-inch cake)
Ingredients
For the Gingerbread Cake:
2

cups

all-purpose flour

(252g; measured via spoon and level method)

1

teaspoon

baking soda

1/2

teaspoon

salt

1 1/2

teaspoons

ground ginger

1

teaspoon

cinnamon

1/4

teaspoon

nutmeg

1/4

teaspoon

cloves

1/2

cup

unsalted butter

(113g; 1 stick)

3/4

cup

molasses

(255g; don't use blackstrap)

1

cup

hot brewed coffee*

(227g)

1/3

cup

Domino® Golden Sugar

(66g; granulated sugar works too)

1

large egg
For the Cream Cheese Frosting:
4

ounces

cream cheese

cold (113g)

1/4

cup

unsalted butter

room temperature (56g; 1/2 stick)

1

cup

powdered sugar**

(113g)

1/2

teaspoon

vanilla extract

Pinch

of salt
For the Candied Walnuts:
1

cup

walnut halves

(113g)

1/4

cup

Domino® Golden Sugar

(50g; granulated sugar works too)

1

Tablespoon

unsalted butter

(14g)

1/4

teaspoon

salt
Instructions
For the Cake:
Preheat your oven to 350 degrees F. Grease a 9-inch round springform cake pan, or a normal 9-inch round cake pan with at least 2-inch high sides.

In a medium bowl, whisk the dry ingredients: flour, baking soda, salt, ginger, cinnamon, nutmeg, and cloves. Set aside.

In a large microwave-safe bowl (I use a large glass bowl), or in a saucepan on the stove, melt the butter. Whisk in the molasses and hot coffee until fully combined and smooth. Whisk in the Golden Sugar, followed by the egg, until fully combined.

Dump the dry ingredients into the bowl with the wet ingredients and stir together until well-combined and no lumps remain.

Pour the batter into the prepared pan, smooth out the surface, and bake for 35-40 minutes, or until cake springs back when touched and a tester inserted in the center comes out clean.

Let cake cool in pan on a rack for 10 minutes, then remove the sides of the springform pan to release the cake. Let cake cool completely while you prepare the frosting.
For the Cream Cheese Frosting:
In a large bowl using a stand mixer with the whisk attachment, or a hand mixer, beat cream cheese and butter at high speed until pale and very fluffy – this should take 2-3 minutes. You want to incorporate as much air as possible into the mixture to make it light and fluffy. Add the powdered sugar, vanilla, and salt, and beat at medium to high speed until fully combined and light.

Spread cooled cake with cream cheese frosting. It should make a thick layer, and can be swirled in pretty patterns with an offset spatula.

Sprinkle top of cake with candied walnuts if desired. Serve!
For the Candied Walnuts:
Place all ingredients in a skillet over medium heat. Stir occasionally, until the Golden Sugar begins to melt, about 5 minutes. Once sugar melts, stir constantly to prevent burning until all nuts are coated, about 1 minute more. Remove from heat and spread the nuts out on a baking sheet lined with parchment to cool (this prevents clumping). Once cool, sprinkle over top of cake. Leftover nuts keep up to a week in a sealed container at room temperature.
Notes
Frosted cake will keep, well-wrapped in the fridge, for up to a week. I like to microwave leftover pieces of cake on 50% power for 20 seconds to reheat. You can also make this cake ahead for the best flavor – bake the cake up to 2 days ahead, and leave unfrosted, well-wrapped at room temperature. When you're ready to serve, frost the cake and top with the candied walnuts! Cream cheese frosting can be made up to 2 days ahead as well. Keep in the fridge and bring to room temperature before frosting.
*Decaf coffee can be used; or hot water if you prefer not to use coffee.
**To turn the Golden Sugar into powdered sugar, blend 1/2 cup Golden Sugar on high speed in a blender or food processor until it becomes powdery and fluffy, about 1 minute.  This should yield 1 cup powdered sugar.
Like this recipe? Please rate it and leave a comment or tag me on Instagram @katiebirdbakes, and sign up for my email list to receive my recipes straight to your inbox every time I post!