This plum coffee cake bakes up sweet and fragrant with jammy sliced plums nestled in a buttermilk almond cake. Brush the plums with melted butter and sprinkle with sugar before baking for a caramelized sugar top.
Note: this recipe was originally published in September 2017. As of September 2021, I've updated the photos and method to make it a more delicate coffee cake using buttermilk and almond flour. It also features better aesthetics (i.e. I'm no longer covering up the beautiful plums with streusel – they don't need it anyway). I hope you enjoy!
Photography is a constant work in progress, more of a journey than a destination, but I was helped along greatly by enrolling in Foodtography School (affiliate link) in 2018. They offer courses for beginners up through advanced food photographers, with courses in iPhone photography and restaurant photography as well. It was totally worth the investment for me — in fact, I signed up for the advanced course to continue working on my skills. I hope it's a valuable resource for you as well!
---
This is a September cake. Still holding on to summer but there's a bittersweet autumn edge to it that can't be ignored.
I dreamed up this plum coffee cake while on vacation in Italy a few years ago. One of the greatest things about Italian vacations (and honestly, who could even narrow down a list) is that cake for breakfast is 100% acceptable. As long as you also have gelato later.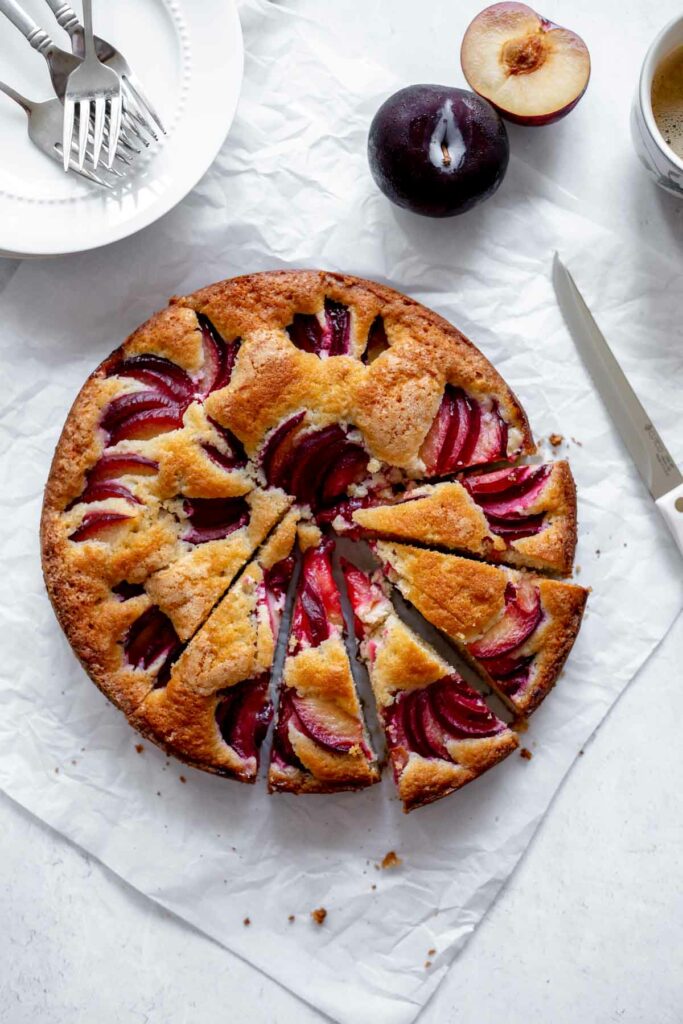 This particular vacation was in Puglia, a southern region in the heel of the "boot" of Italy, which is mostly composed of wide open countryside with winding roads, olive groves and vineyards, fig trees everywhere you look, and white stone cities rising on cliffs overlooking the sea. It was nothing like northern Italy and nothing like anywhere I'd been before. There was a serenity to it.
We absolutely loved it.
Every morning, our hotel (the Masseria Cervarolo; I highly recommend!) laid out a selection of at least six different cake varieties for breakfast, in addition to a host of fresh fruits from their on-site fruit trees, meats, cheeses, yogurt, and bread and jams. They also made one of the best cappuccinos I've had.
It was basically my obligation to try at least two different cakes per day. Just for research purposes, of course.
This plum coffee cake is actually quite similar to the simple, unassuming cakes featured in that quintessentially Italian breakfast spread. No heavy streusel or glaze; just a truly hefty amount of sliced plums layered on top of a delicate almond cake. The flavors sing on their own with no need for accompaniment.
What this is not, is the classic plum torte from Marian Burros, and it's not trying to be. If you've never made that torte, please go do so immediately. There's something about the sunken plums and the cinnamon-spiced batter that is pure heaven.
The batter is a little richer and sturdier, allowing the plums to remain on top of the cake instead of sinking. I wanted to show them off because their color is so beautiful once baked! The original version of this recipe had a streusel topping, but I removed it because I don't want to cover up these stone fruit rubies.
Plum Coffee Cake: Recipe Steps
First, we make a simple buttermilk-based almond cake batter. You'll need a hand or stand mixer to get the appropriate amount of air whipped into it. I tend to prefer hand-whisk-able batters over mixer ones, but sometimes, you gotta do what you gotta do for the appropriate cake reward.
NOTE: if you don't have buttermilk, you can either make it by adding 1/2 Tablespoon of vinegar to 1/2 cup regular milk or non-dairy milk and let sit for 5 minutes. Or, you can substitute an equal volume of Greek yogurt thinned with a little milk.
Then, spread that batter in a greased springform pan. You want a springform pan because it has high sides (best for those lovely browned edges you see above) and because it's easy to remove the cake and cut it once it's baked. You could probably also use a deep dish 9″ cake pan if you have one.
Next, quarter your plums (3-4 medium should do it) and remove the pit. Slice them very thinly, and arrange in whatever pattern you'd like over the batter with the skin facing up. I like to slice not quite all the way through so I can fan out the quarters in pretty patterns.
You should feel free to really crowd the sliced plums into the batter for this plum cake. More is better here, as they do sink into the batter a bit as it bakes and you want to be able to see them! Plus, the heat of the oven melts the plums into delicious jammy puddles bursting with flavor amid the soft cake.
Yes, I said jammy puddles.
We could stop there, but we're not going to. Because the ultimate move here is to brush the sliced plums with just a tablespoon of melted butter and then sprinkle a tablespoon or two of sugar over top. In the oven, the butter and sugar brown and caramelize and create the most glorious crisp sugar lid on your coffee cake!
Combined with the soft almond cake and jammy plums that somehow turn a little tart in the oven, it can't be beat.
I brought this plum coffee cake into work on a Monday morning back when I first created the recipe, and it was gone by 10 a.m. I think that means the Italians have it right: more people should have cake for breakfast. Please let it be you very, very soon.
More Summer Recipes
Plum Coffee Cake
This plum coffee cake bakes up sweet and fragrant with jammy sliced plums nestled in a buttermilk almond cake. Brush the plums with melted butter and sprinkle with sugar before baking for a caramelized sugar top.
Ingredients
For the cake:
1 and 1/2

cups (188g)

all-purpose flour

1/2

cup (48g)

almond flour

1

teaspoon

baking powder

1/2

teaspoon

baking soda

1/2

teaspoon

salt

1/2

cup (113g)

unsalted butter, softened to room temperature

3/4

cup (150g)

granulated sugar

2

large

eggs

1

teaspoon

vanilla extract

1/2

teaspoon

almond extract

1/2

cup (118 ml)

buttermilk

(or Greek yogurt thinned with milk)

3-4

medium

plums, pitted and sliced thinly

(about 3/4 lb before pitting)

1

Tablespoon (14g)

unsalted butter, melted

(for brushing)

1

Tablespoon (12g)

granulated sugar

(for sprinkling on top)
Instructions
For the cake:
Preheat oven to 350 degrees F.  In a medium bowl, whisk together all-purpose flour, almond flour, baking powder, baking soda, and salt. Set aside.

In a large bowl, with a hand mixer or stand mixer with the paddle attachment, beat butter and sugar together at high speed until light and fluffy, about 2 minutes.  

Add eggs one at a time, beating on medium speed after each, until fully incorporated.  Add vanilla and almond extracts and beat briefly to combine.

Add a third of the flour mixture and beat on low speed until combined, then add half the buttermilk and beat on low speed again. Repeat with remaining third of flour mixture, the rest of the buttermilk, and end with the last third of the flour mixture. Beat on low speed until the batter is smooth, but do not overmix.

Spread the batter into a greased 9-inch springform pan (or a high-sided 9" round cake pan, if you don't have a springform).  Arrange sliced plums, skin up in whatever pattern you like, over top of the batter.  Feel free to really crowd them in there – the higher the plum-to-cake ratio, the better.

Brush melted butter evenly over top of the plums and cake batter.  Sprinkle the remaining tablespoon of sugar evenly over top. Bake for 45-50 minutes, until risen, browned, and a tester inserted in the center of the cake comes out clean or with a few moist crumbs.

Cool completely before serving at room temperature!
Notes
Adapted from my rhubarb cake.
Storage: Cake with keep, well-wrapped at room temperature, for up to 2 days.  It will keep 3-4 days in the fridge.  I think it's best served at room temperature!
Buttermilk: if you don't have buttermilk, you can make it by combining 1/2 cup of regular milk with 1/2 Tablespoon of vinegar and let sit for 5 minutes.  Alternatively, use Greek yogurt thinned with a little milk to replace the buttermilk.
Almond flour: if you don't have almond flour, you can substitute 1/4 cup (31 grams) additional all-purpose flour in its place.
Like this recipe? Sign up for my email list to receive my recipes straight to your inbox every time I post!
Cake for breakfast may just be my new life motto.