With a buttery hazelnut brown sugar dough that becomes both the crust and the topping, and a layer of jammy plums in between, these hazelnut plum bars are a late summer dream.
Jump to Recipe
We're in that odd phase between summer and fall, where some days are still hot and sticky and others are crisp and cool.  This week in particular, though, I can't get enough of being outside and I wish every day in Chicago were like this.  Clear mornings, bright and breezy afternoons, and gorgeous evenings where no one wants to be inside. 
Plums are like this week – the bridge between summer and fall.  They're in the stone fruit family, so their roots lie in summer, but their arrival at farmer's markets and grocery stores is always the signal to me that fall is coming.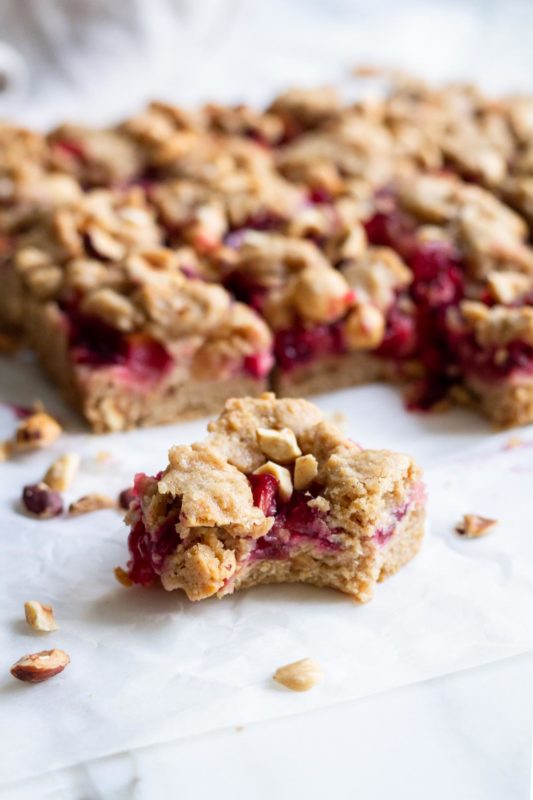 Best way to celebrate this transitional fruit is by treating it simply.  Marian Burros knows it with her classic plum torte.  I decided to do it by sandwiching it between layers of buttery pastry.  I took the same idea I had with my strawberry crumble bars and turned them into plum bars.  And what a delicious result it was!
I added hazelnuts to both the dough (for their delicate flavor) and to the top (for their crunch).  They pair perfectly with the sweet-tart plums that bake down into a jam-like layer in the oven.
Like many great recipes, this one respects your time.  I love that I only had to make one dough for this – it gets packed down into the pan as the crust, then sprinkled over top of the plums as a crumb-like topping.  This leaves more time for long walks by the lake and sitting by the pool before Chicago turns into siberia again.
And we all know that's sadly not that far off.
The one thing you do have to be careful about is making sure the plum bars cool completely before you cut them.  If you do it too soon, you'll just have a (delicious) mess.  I like to put them in the fridge to help the process along.  I also wouldn't mind a warm, messy bar covered in vanilla ice cream, so you know, do what you're comfortable with.
I hope you make these snacking/breakfast/dessert/anytime bars while the plums are still here!
Hazelnut Plum Bars
With a buttery hazelnut brown sugar dough that becomes both the crust and the topping, and a layer of jammy plums in between, these hazelnut plum bars are a late summer dream.
Ingredients
For the dough:
1 1/2

cups

all-purpose flour

1/2

teaspoon

baking powder

1/4

teaspoon

salt

1/2

teaspoon

cinnamon

1/2

cup

unsalted butter, cold

(1 stick)

1/2

cup

brown sugar, packed

1

large

egg

1/2

teaspoon

vanilla extract

1/2

cup

finely chopped hazelnuts

Additional hazelnuts, for topping
For the plum filling:
2

cups

chopped plums

2

Tbsp

sugar

1

Tbsp

cornstarch
Instructions
Preheat your oven to 350 degrees F. Line an 8×8 inch square pan with parchment paper (easiest method in my opinion) or grease the pan well, and set aside.

In a large bowl, whisk together flour, baking powder, salt, and cinnamon. Cut in the butter with a fork, pastry cutter, or my personal preference, your fingers, until there are some pea-sized crumbs and the mixture looks like wet sand.

Mix in the brown sugar, egg, vanilla, and chopped hazelnuts. It's actually best to do this with your hands as it goes a lot faster. Make sure everything gets really well combined.

Set aside 1/3 of the mixture; pour the other 2/3 into the prepared pan and press into an even flat layer with your hands. Set aside while you prepare the filling.

In a medium bowl, toss plums, sugar, and cornstarch until plums are completely and evenly coated. Pour mixture over top of crust and spread into an even layer.


Sprinkle the remaining 1/3 dough mixture over top of the plums. No need for exact placement here – just make sure it all gets on top.

Bake for 35-37 minutes, until crust is golden and fruit may be bubbling, but it doesn't have to be. Let cool completely in the pan before lifting the parchment paper from the pan to remove the bars, otherwise they will fall apart.

Sprinkle additional chopped hazelnuts over top if desired, and serve!
Notes
Recipe adapted from my strawberry crumble bars.
Bars will keep, covered in the fridge, for up to 5 days.  Reheat in the microwave before serving, or serve cold, whatever you prefer.  I like these plum bars with vanilla ice cream or whipped cream best.
Like this recipe?  Please rate it and leave a comment or tag me on Instagram @katiebirdbakes, and sign up for my email list to receive my recipes straight to your inbox every time I post!