Game Day Beer Chili: an easy stovetop chili with amped up flavor from beer and lots of spices, perfect for your game day party! Canned chili doesn't hold a candle to this. (Jump to Recipe)
All right, I know the title of this blog is "Katiebird Bakes," but one can't live on sweets alone.  Nor do I want to, when this chili exists.
Would you believe that I never tried chili until college?  Sacrilege, I know.  I don't know if my parents didn't like it, or somewhere along the way I (erroneously) decided I didn't like it, but I didn't grow up eating it.  When I first tried it at the dining hall in college, it was a whole new world of flavor — and that was dining hall chili.
I think chili is one of those all-time winner foods.  Endlessly customizable, easy to put together, not finicky about ratios or timing, slow-cooker friendly, and most importantly, crowd-pleasing.
It feels a bit strange talking about chili, of all things, when so many crazy, earth-shattering things are happening in the world right now.  I've been wondering to myself if talking about food is perhaps silly and small, when our problems are so serious and great.  I am concerned for the future, and I want to do my part to make it better.  So then I thought: maybe my part, right now, is to give people a break from the doom and gloom.  Maybe my part is to make people happy with food, to lighten their hearts and remind them that life, and celebrations, will go on.
Nothing is certain, and life is not easy.  But at least we have chili.  And football.  And football parties where we serve homemade chili to the people we love.  Doesn't matter what team you're rooting for, or if you care at all about the game – it's about sharing food and laughter.
I am a fan of your basic beef-tomatoes-beans chili, but that's not what we're making today.  Today, we're turning up the flavor volume with beer and lots of spices.  Here are our ingredients:
Use any kind of beer you like.  I prefer to use a medium wheat beer – this time it was Bell's Winter White, because that's what we had in the fridge.  But I've used many different beers in this recipe, and none of them have turned out badly.  I'm not personally a fan of IPAs, so those are the only kind I wouldn't recommend.
I also used ground turkey instead of ground beef.  Again, use what you like.  This recipe is very forgiving.
Saute onion and garlic in a large pot (I like using my dutch oven for this), until soft and translucent.  Then add your meat and cook until browned, followed by the spices.  Observe:
Then, once everything is combined, pour in your beer and bring everything to a boil.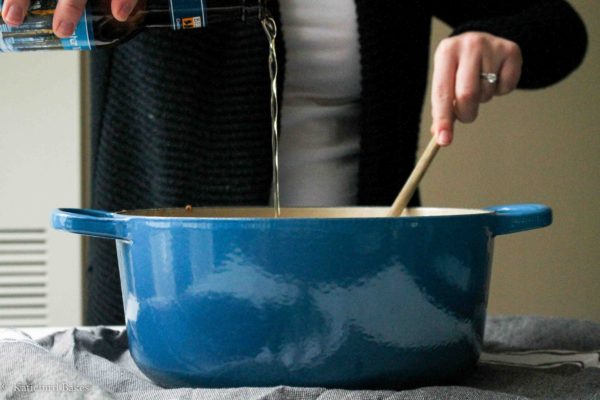 Do you find cooking meditative?  I do.  I love how a few simple ingredients and spices can be combined and transformed into something completely new and unique.  The process of doing so gives me time to let my mind roam free and reflect.  Put on some great music while doing it (I'm currently obsessed with the Rogue One soundtrack) and it's even better.
After the beer has boiled for a few minutes, add the tomatoes and drained/rinsed beans and let simmer for a few minutes to blend all the flavors.  This is a good time to prepare your preferred toppings.  I don't like wasting time in the kitchen, especially when there's chili at stake.
Taste the chili and make sure it's seasoned to your liking.  I find adding a bit more salt and pepper, and maybe some red chili flakes or hot sauce right at the end, gives it the kick I want.  Do that, and we have our finished chili!
Your kitchen should smell absolutely delicious.  If you're taking the chili to someone's house or a tailgate, I'd recommend putting it in a slow cooker (Brian just got me this one and I love it!) and keeping it on the "Warm" setting there.  You could also finish this recipe in the slow cooker after you've boiled the beer, if you're so inclined.  I'd cook it on low for 3-4 hours before the party.
When you're ready to eat, assemble with all the toppings!
Everyone has their favorites.  Mine: sharp cheddar, sour cream, green onions, sliced avocado, and some tortilla chips for scooping.  Because we all know, the scoop is one of the best parts.  I choose to be ladylike below and use a spoon, but we know what's really happening here.
Game Day Beer Chili
An easy stovetop chili with amped up flavor from beer and lots of spices! Canned chili doesn't hold a candle to this.
Servings:
6
servings (can easily double)
Ingredients
1

yellow onion, diced

2

cloves garlic, minced

1

lb

ground turkey

2

tablespoons

chili seasoning (I used the McCormick's original packet)

1

tablespoon

salt

1

tablespoon

ground black pepper

1

tablespoon

cumin

1

tsp

crushed red pepper flakes (or more, to taste)

1

12-oz

bottle of beer (I used a wheat ale, but use your favorite beer)

1

28-oz

can crushed tomatoes, unsalted (if you can only find salted, reduce the salt above)

1

15.5-oz

can black beans, drained and rinsed

1

15.5-oz

can kidney beans, drained and rinsed

Hot sauce, to taste (optional)
Instructions
Heat a large pot (I used a dutch oven) over medium heat. Add cooking oil and sauté onions until soft and translucent. Add garlic, and sauté just until fragrant. Add ground turkey and cook, breaking up with a spoon, until it is browned and no longer pink.

Add all seasonings and stir frequently until combined. Turn the heat up to high and pour in the beer. Stir and scrape the bottom of the pot to remove any browned bits. Bring to a boil; reduce to medium-high heat, but keep the mixture boiling for about 5 minutes, stirring occasionally.

Add the canned tomatoes and the beans, and reduce to a simmer. Let the mixture simmer for about 20 minutes to meld the flavors, stirring occasionally. Prepare your preferred toppings during this time.

Taste the chili and add any seasonings, to taste. I sometimes add a bit more red pepper flakes, salt, or hot sauce.

Serve in bowls with your favorite toppings!
Tortilla chip scoop > spoon.  Stay hungry my friends.