This salted maple pecan granola is sweet and salty, crunchy, vegan, gluten-free, and it's the most addicting homemade granola recipe I've ever made.
Let's talk about what we have almost exclusively been eating for the past month. Hint: it starts with GRAN and ends with OLA. And it is so, so good.
Are you a granola fan? Do you eat it with milk, like cereal, or sprinkle it on top of your yogurt? Maybe you only have it as a garnish on açai bowls, or maybe you eat it by the fistful out of the bag. Whatever your feelings about granola, I promise you, this one is going to make you a dedicated fan.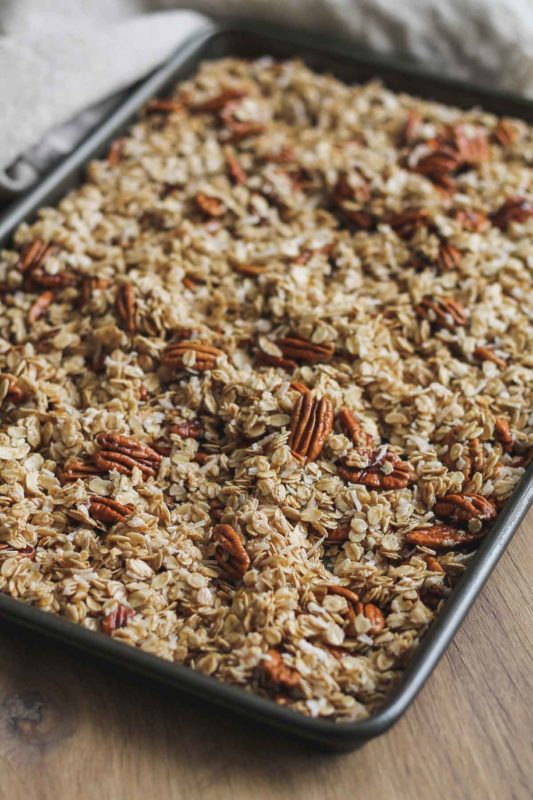 My problem with most store bought granolas is twofold:
First, they are, as a rule, far too sweet. If you look at the label, even on "healthy" granolas, the second, third, fourth, and even fifth ingredients are variants of sugar. I don't care if you call it "brown rice syrup" or "pure cane syrup" or "coconut unicorn blossom nectar" – it's all sugar. And lots of it.
Second, they aren't all that fresh and taste kind of stale/cardboard-like. Even the organic non-gmo locally sourced yadda yadda yadda ones. And the clusters are sometimes teeth-breaking. Meh.
So for a number of years I actually kind of avoided granola because I figured it wasn't healthy for me and it didn't taste all that great either.
Enter this homemade maple pecan granola.  Last fall, Pinch of Yum published a recipe for a homemade pumpkin granola that looked to die for.  I decided to try it and loved it.  Then I made it a few times more, and tweaked some things like ingredients, ratios, and oven temperatures, and kept making it.  For the sake of science, and all.  Yeah.
The thing about a homemade granola recipe is, YOU control exactly how much sugar (or in our case, pure maple syrup) goes in there.  YOU control the salt level (in my case, on the salty side to interact beautifully with the sweet).  YOU create the add-ins you want (and no weird stuff you don't want).  And YOU get to have your whole house (if you live in a one-bedroom apartment like me) smell like heaven while you're baking it.
No joke, this maple pecan granola is all Brian and I have been eating for breakfast every day for the past month. We really don't get tired of it – the sweet/salty combination, the crunch, the toasty-ness. It's SO good.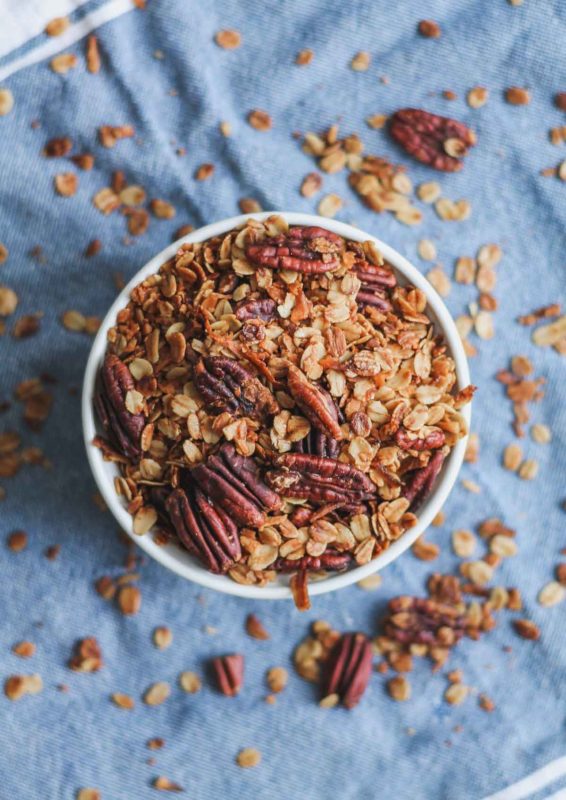 Steps and Tips
Now, I have a few pointers for success with this maple pecan granola:
Oven temperature: 325 rather than 350.  The lower temperature allows the granola to get toasty, rather than burnt.  The line can be crossed quickly, so you need to pay attention towards the end of the baking time.
Basic ratio: 3 cups oats, 1/2 cup oil, 1/2 cup liquid sweetener, 1 1/2 to 2 cups add-ins.  Then you can play around with salt and spices.  This makes enough granola to fill one standard-sized cookie sheet.  It lasts us about a week.
Steps: whisk the wet ingredients and spices in a large bowl until well-combined, add the dry ingredients, and stir until everything is evenly coated. Then scrape onto a rimmed parchment-lined baking sheet (for easier cleanup) and spread out in an even layer. If your baking sheets are small, you might need two.
Time formula: bake 20 minutes, pull out and stir, bake 20 minutes, pull out and stir, bake 5-10 minutes more, watching carefully, until browned and toasty, but NOT burnt.  It bears repeating that the line between toasty and burnt is VERY thin, especially with pecans.  That's not to say I won't still eat them.
Yield: if you prefer a small batch maple pecan granola, just halve all of the ingredients. Halve the bake time as well (so 10 minutes, stir, 10 minutes, stir, 2-3 minutes or until toasted to your liking).
It's worth noting that this method makes more of a crispy, cereal-like granola than a cluster-y granola. That's how I prefer it, because it lends itself to all sorts of uses, for example:
Generously sprinkled piled on morning yogurt with berries (my preferred method)
A crunchy, absurdly delicious topping for peanut butter toast (Brian's preferred method)
Sandwiched in the middle of a PB&J (also Brian; are you sensing a theme?)
Eaten by the handful out of a large ziploc bag while pacing around the kitchen (ok, that was both of us)
Baked into cookies (woah, I just thought of that and need to do it immediately)
If you would rather have more clusters, I've read that you can add an egg white to the wet ingredients, which helps them clump together better as they bake. I haven't personally tried it though, so experiment at your own risk.
Promise, you'll love this one!
Salted Maple Pecan Granola
Sweet and salty, crunchy, and full of toasty flavor: this salted maple pecan granola is one of the most addicting homemade granolas I've ever had.
Servings:
4
cups (8-10 servings)
Ingredients
1/2

cup (100g)

olive oil

(or melted coconut oil)

1/2

cup (156g)

pure maple syrup

1/2

teaspoon

vanilla extract

1

teaspoon

cinnamon

1

teaspoon

salt

3

cups (288g)

rolled oats

1

cup (114g)

pecans

(chopped or halves, your preference)

1/2

cup (42g)

unsweetened shredded or flaked coconut
Instructions
Preheat oven to 325 degrees. Line a standard cookie sheet with parchment paper if desired (it's not necessary, just less messy), and set aside.

In a large bowl, whisk together olive oil, maple syrup, vanilla extract, cinnamon, and salt until fully combined.

Add oats, pecans, and coconut to the bowl and stir everything together until the dry ingredients are completely coated in the wet and evenly incorporated.

Dump the mixture out onto the cookie sheet and spread evenly to form one layer, covering the entire sheet.

Bake for 20 minutes. Remove from the oven, stir so everything gets moved around and flipped over. Bake 20 more minutes. Stir again. Then bake for 5-10 additional minutes, watching carefully to make sure the pecans are not burning (it happens fast). Remove from the oven when toasted to your liking.

Let the granola cool completely in the pan before placing in an airtight container (I use a large glass jar or large freezer bag).  Store at room temperature for up to 2 weeks.
Notes
NOTE: if you want a small batch granola, just halve the entire recipe.  Adjust the bake time to 10 minutes, stir, 10 minutes, stir, then 2-3 more minutes or until toasted to your liking.  Again, watch carefully as the pecans can go from toasted to burnt very fast!
Adapted loosely from Pinch of Yum's Pumpkin Granola.
Like this recipe? Please rate it and leave a comment or tag me on Instagram @katiebirdbakes, and sign up for my email list to receive my recipes straight to your inbox every time I post!