Fresh corn cakes use the best of summer sweet corn with cornmeal for texture, and are topped with quick caramelized shallots and heirloom tomatoes. (Jump to Recipe)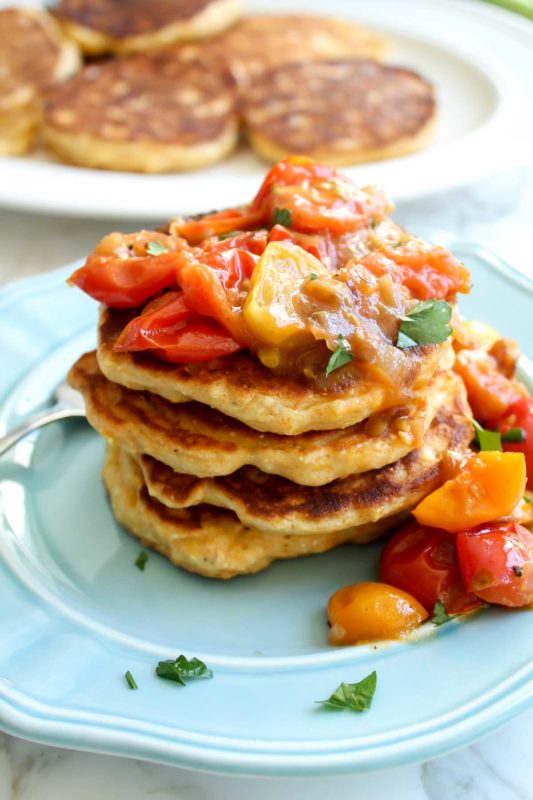 Every once in a while, I have to throw a savory recipe up on here so you don't think I live exclusively on donuts and cake.  Not that that would be a bad thing.
In all seriousness, most of the time I do try to eat a fairly healthy diet with lean proteins, healthy fats (hello avocado + nut butter), lots of veggies and salads, and good carbs like oatmeal.  In my mind, it balances out all the sweets I eat on a regular basis. #math
This is going to sound weird, but I actually find making dinner difficult in the summer.  I love cooking hearty, comforting winter foods like soups, roasts, stews, pastas, chilis.  Summer is a bit of a conundrum for me.  I don't really want to turn on the oven, but I also don't really want to stand in front of a hot stove for long.  Food doesn't really comfort me in the summer – there's a lot of cold food, a lot of salads and fruits and smoothies and ice cream.  Don't get me wrong, it's all delicious.  But sometimes I want something in between, something just a little bit warm and comforting without breaking into a sweat.  Weird?  Just me?
Enter these corn cakes.  I was walking around the Division Street farmer's market a couple Saturdays ago, and amongst the baskets of peaches and cherries and blueberries that usually draw me, there were also giant barrels of fresh corn on the cob.  Midwest summer sweet corn is so good, and so cheap, in July and August.  I really can't resist it.
Next to the corn, there were the most gorgeous mini heirloom tomatoes.  I love all the colors and shapes heirloom tomatoes come in.  They're full of personality.
I stood there looking back and forth between the corn and the tomatoes while other people milled about buying beets and giant zucchini, and slowly, a plan was hatched.  It went something like this: 1) I do like corn and tomatoes together, maybe I can make pasta. 2) no, I don't feel like boiling water. 3) ok, maybe corn and tomato pizza. 4) no, we have no cheese and I don't feel like making or buying pizza dough, too much work. 5) jeez I'm lazy. but it's so hot outside. 6) Brian likes corn cakes; those wouldn't take too long to make. but I don't want them to be sweet. 7) what if I made savory corn cakes…WITH tomatoes over top??  Yas. Buy them all!
The people behind the table probably thought I was nuts.  They might not be wrong.  But my weeks are so busy now with work and life that I relish the time to debate these little things with myself on the weekends, so I don't care.
I promptly went home and made just that: savory fresh corn cakes, with a caramelized shallot and tomato "sauce" over top.  I don't know that it's really a sauce, but it's the only word I can use that comes close.  True to my word on not taking long to cook in the summer, these seriously took 20 minutes or so to put together, and you can cook the shallots and tomatoes while the corn cakes fry up.  I used a coarse ground cornmeal to give the corn cakes some crunch, and cheated a little with the caramelized shallots, using a bit of brown sugar instead of waiting the half hour it would take to caramelize them naturally.  Please forgive me; it was 95 degrees out that day.  I don't think the result suffers one bit.
I feel like these corn cakes could definitely be brunch material, if you've got some fried eggs and coffee (and maybe a bloody mary) to serve along with them.  Anyway, we ate them for dinner before going to listen to a symphony in the park, sitting on a blanket with cans of cold beer.  Because that's what summer in Chicago is all about.
Fresh Corn Cakes with Caramelized Shallots & Tomatoes
Fresh corn cakes use the best of summer sweet corn with cornmeal for texture, and are topped with quick caramelized shallots and heirloom tomatoes.
Servings:
12
4-inch cakes
Ingredients
For the corn cakes:
2

cups

corn kernels

divided in half (cut from about 2 ears of corn)

2

tablespoons

unsalted butter

plus more for cooking

1/2

cup

milk

1/2

Tablespoon

apple cider vinegar*

1

teaspoon

honey

3/4

cup

all-purpose flour

1/2

cup

coarse-ground cornmeal

1

teaspoon

baking powder

1/2

teaspoon

baking soda

Pinch

of salt and pepper
For the caramelized shallot and tomatoes:
2

shallots

diced

1

tablespoon

each butter and oil

2

teaspoons

brown sugar

2

cups

chopped cherry tomatoes

(I used mini heirloom tomatoes)

Salt and pepper to taste

1

tablespoon

unsalted butter
Instructions
In a blender, purée half the corn kernels, butter, honey, vinegar & milk until mostly smooth.

Transfer mixture to a large bowl and mix in remaining corn kernels. Add the dry ingredients, and stir everything together until thoroughly combined. Let sit for a couple minutes.

In a skillet (I use my griddle pan), melt some butter over medium heat and about add 2 heaping tablespoons of batter for each pancake. Cook about 2-3 minutes per side or until cooked through. Set cooked cakes aside on a large plate. Repeat as necessary until all batter is used.

Meanwhile, heat a medium skillet over medium heat, add butter and oil, and sauté shallots until transparent. Add brown sugar and cook, stirring, until sugar has melted into the shallots. Add a teaspoon of water if the pan seems dry. Add tomatoes and sauté until tomatoes break down and release juices. Add salt and pepper to taste, then add butter and stir until melted and everything combines to form a chunky sauce.

Top each cake with the tomato mixture, and a fried egg or cubed avocado if desired!

Keep any leftover cakes in the refrigerator for 2-3 days, or wrap individually in plastic wrap and freeze for an easy breakfast or dinner later.
Notes
*you could also skip the vinegar and use 1/2 cup buttermilk in place of the milk.
Corn cakes adapted from Food52.
Like this recipe?  Sign up for my email list to receive my recipes straight to your inbox every time I post!