In this easy blueberry crisp, fresh blueberries are the star – they bake down into a bubbling sweet filling with a crisp brown sugar oat topping. Don't forget the ice cream!
I don't want to speak too soon, but I believe we have finally reached the end of that long dark tunnel commonly known as a Chicago winter.
The first day temperatures rise above 50, a magical transformation happens in the city. Smiling faces are everywhere, heavy coats are thrown off, people wear shorts, and every dog and baby in the entire city descends upon the nearest park and the lakefront.
Brian and I are definitely not immune to this phenomenon. This past weekend we spent probably 4 hours just walking the city north to south, and I'd say that's quadruple the amount of time we'd spent outside in the past 3 months combined.
I have to be honest and say that I've been feeling rather drained and uninspired the past couple of months when it comes to new recipes. Part of it has to do with the seasonal blues and work, but part of it is also that I've been making a concerted effort to focus on good nutrition and taking care of myself. While I firmly believe dessert is an essential part of every diet, it can be hard to reconcile a focus on healthy eating with testing a large volume of sweets.
Don't worry, I'm not going anywhere! My creative energy has just been taking a break for a couple months.
The spark was reignited when Imperfect Produce asked me to create an easy blueberry dessert to coincide with their new partnership with an organic blueberry supplier. See the bottom of this post for a discount code if you're interested in signing up for their produce boxes!
I love working with Imperfect because they allow me to create desserts that not only feature fresh produce, but also typically wind up being a healthier option than normal baked goods, so I'm not derailing my efforts at being healthy by creating them.
After batting a few ideas back and forth on the best blueberry recipe to create, I settled on one of the easiest desserts there is: blueberry crisp!
How to make the best blueberry crisp
I chose to develop a blueberry crisp recipe because it's unbelievably simple to make compared to most fruit-based desserts. No pie dough, no chilling time, no mixer required. Very minimal ingredients. Here are the steps!
Rinse blueberries, then dump them in a baking dish, and gently mix with a tiny bit of sugar, lemon juice, and cornstarch. The cornstarch is there to thicken the blueberry filling as it bakes, while the lemon juice imparts just a bit of tartness to help the blueberry flavor shine through.
Melt butter, then mix with brown sugar, flour, oats, cinnamon, salt, and chopped almonds (or other nuts if you prefer). Dump it on top of the blueberries.
Let the oven do the work while you have a coffee (or wine, hey, I'm not opposed) and watch Netflix. Get the ice cream out of the freezer. Pile the warm blueberry crisp into bowls, top with ice cream. DONE!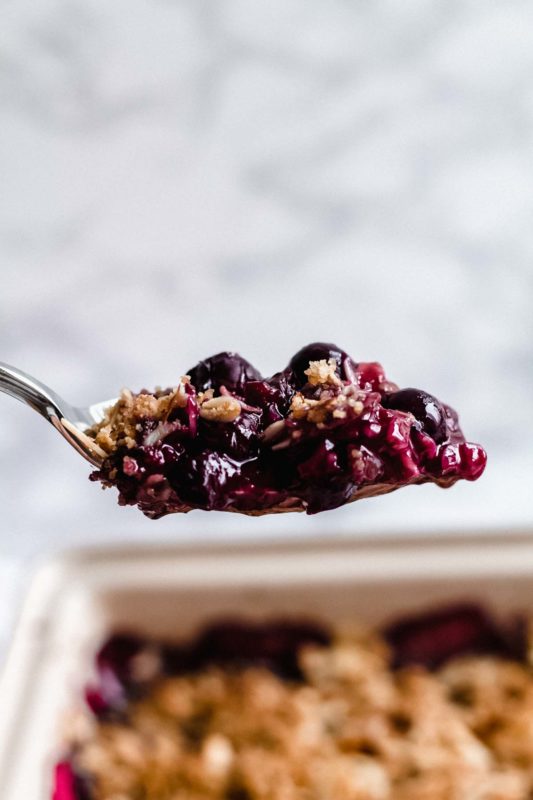 This is seriously one of the easiest, and also one of the best, desserts I've ever created. I don't say that lightly – I had Brian and my parents, the ultimate taste testers, try it out and they could not stop eating it! You know those times when there is complete silence as people are eating and you KNOW it's because it's too good to take a break to speak? That's the situation we've got here.
The flavor is subtle and 100% blueberry. The toasty, buttery crisp on top just accentuates it, but the blueberries are the star of this blueberry crisp and I love it.
Too often blueberries are just an accent on the main event, like a blueberry muffin or cake, but here they come into their own. They bake down perfectly into a syrupy, wonderful filling that isn't too loose or too jelly-like.
I also love the texture and flavor after the blueberry crisp has sat in the fridge for a day. As the filling has time to sit, it becomes less liquid and intensifies in flavor. SO good.
I did not try this with frozen blueberries, but I have every reason to believe it would be just as good, with maybe 5-10 minutes added to the baking time to compensate for the frozen berries.
I hope you find time this summer to make this amazing and unbelievably easy blueberry crisp. I know it will be on repeat in my kitchen!
Blueberry Crisp
In this easy blueberry crisp, fresh blueberries are the star – they bake down into a bubbling sweet filling with a crisp brown sugar oat topping. Don't forget the ice cream!
Ingredients
For the blueberry filling:
4

cups

fresh blueberries

1/4

cup

granulated sugar

1

Tbsp

cornstarch

2

teaspoons

lemon juice
For the oat topping:
4

Tbsp

unsalted butter

1/4

cup

brown sugar

(packed)

1/2

cup

all-purpose flour

1/2

cup

rolled (old-fashioned) oats

1/2

teaspoon

cinnamon

1/4

teaspoon

salt

1/2

cup

sliced almonds
Instructions
For the blueberry filling:
Preheat your oven to 350 degrees. Place the blueberries in an ungreased 8×8 or 2 qt baking dish.

Sprinkle sugar, cornstarch, and lemon juice over the blueberries in the dish. Gently toss it all together until evenly combined.
For the oat topping:
In a large microwave-safe bowl, melt the butter. Stir in brown sugar, flour, oats, cinnamon, and salt until thoroughly combined. Stir in the sliced almonds last.

Scatter the oat topping evenly over the blueberries. Bake for 35-40 minutes, or until the topping is golden brown and you can see the blueberries bubbling up the sides.

Let cool for a few minutes before serving warm with vanilla ice cream. See how long it lasts.
Notes
Store any leftovers in the fridge for a few days, and reheat individual servings in the microwave.
Adapted from my Stone Fruit Crisp recipe.
Thank you to Imperfect Produce for sending me the blueberries I used in this recipe. All opinions are my own! If you want to sign up for your own Imperfect Produce deliveries, you can get 50% off your first box with code "katiebird"!
Like this recipe? Please rate it and leave a comment or tag me on Instagram @katiebirdbakes, and sign up for my email list to receive my recipes straight to your inbox every time I post!